Google wanted to launch its drone across India to beam the internet to every corner of the country, bringing down the costs and expanding the reach of the World Wide Web. However, the government agency DEITY disapproved it, and instead the country may soon come under the Project Loon, and the country has big floating balloons at a height of 20-kms above Earth's surface, transmitting internet services to the remotest corners of the country. Google has been given approval to test the Loon balloons for feasibility.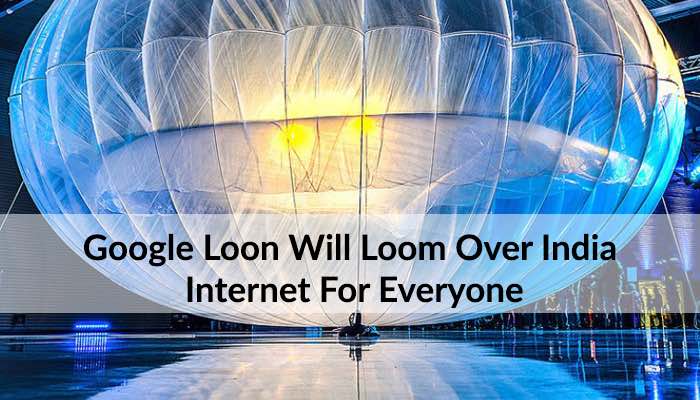 About Project Loon
Project Loon is still under development by Google X and its mission is to provide internet access to the rural and remote areas. High-altitude balloons are placed in the stratosphere to create an aerial wireless network that can provide 3G and 4G speed. New Zealand was the first country where Loon was implemented successfully, and the technology has been adopted in Brazil and California so far. After India, there is a definite buzz that the project will next cover the entire island of Sri Lanka.
The Technology and Why it Matters
Why it matters will hardly be a question when one considers how much our lives are intertwined with the internet. Business, education or personal, internet is governing our interactions with the world. The Balloons run on a solar panel attached to them, which keeps them active up in the sky at a negligible cost and with a lifespan of 100 days at least, it ensures connectivity in a radius of 80kms using LTE.
Project Loon in India
In India, for the project, Google will tie up with local internet service providers for the spectrum, acting only as the agent for transmitting the internet. This means, the telecommunication companies can spread their services to all corners of the country. The far-reaching implications can be felt on the country's push for Internet.org in collaboration with Facebook. Affordable high-speed internet translates into better techniques in agriculture for farmers; the cottage industry can bloom as local merchandise can be sold on a global platform and newer opportunities for eCommerce and mCommerce with more customers. It will also be an opportunity for eLearning businesses as students who want to learn without leaving the comforts of their home will have to barter and actionable educate.
Where There is No Electricity There Will Be Internet
70% of the country reside in India's rural pockets where electricity is yet an occasional spark. One may hope that with the internet, there will be more knowledge of harnessing natural resources and also the spirit of commerce may urge progress as is often the case.
Bigger Internet, Bigger Markets and Greater Opportunities
If Loon succeeds, there will be greater access to the internet which will be mostly impervious to natural and man-made disasters. The reduced vulnerability and unflinching access to markets imply new opportunities for a host of services that can be accessed online. One interesting idea that has been discussed is that of telemedicine whereby advanced medical services can be offered online. It will also help streamline the efforts of the social services sector to ensure better funds management and reach to the recipients.
Google Loon holds immense promise and if it succeeds in India and Sri Lanka, we can expect it to soon expand to other Asian and African countries, bringing access to newer markets and fresher opportunities.