Nokia Lumia 1520 is one of the phablets of Nokia which actually belongs to top end of Nokia, now comes the turn of a proposal which is more affordable and suitable for all budgets (at least in price, but in smaller size). Here we are talking about Nokia Lumia 1320.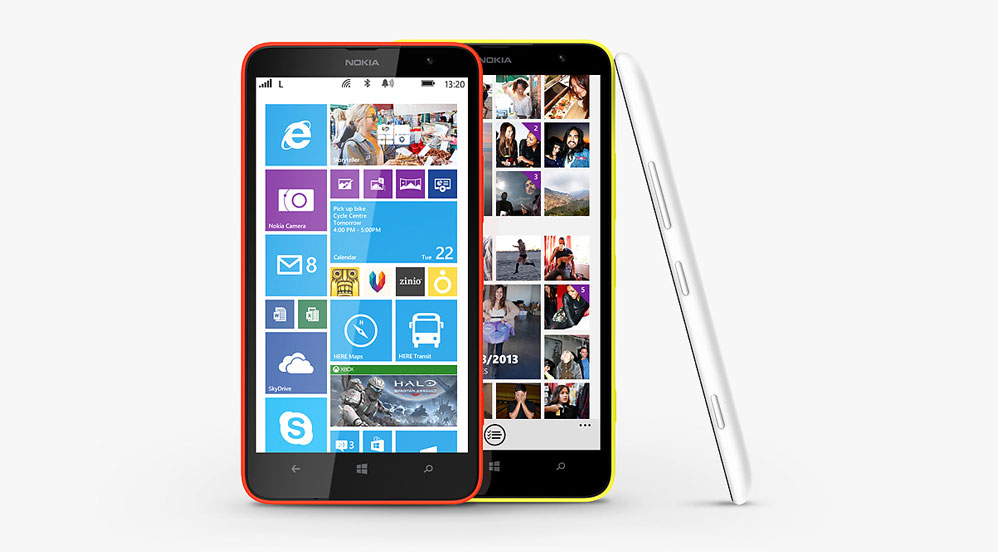 Technical Characteristics
Manufacturer: Nokia
Nokia Lumia 1320
Price: 470 USD
Processor: Qualcomm Snapdragon S4 dual-core, 1.7 GHz
RAM: 1 GB
Storage: 8 GB
Display: 6 inches IPS LCD
Resolution: 1280 x 720p
Rear Camera: 5 Megapixel, LED flash, f/2.4 aperture, sensor 1/4″
Front camera: 640 x 480 pixels
Connectivity: microUSB, microSD, WiFi 802.11 b / g / n, Bluetooth 4.0, LTE
OS: Windows Phone 8
Battery: 3,400 mAh (non-removable)
Size: 164.2 x 85.9 x 9.8 mm
Weight: 220 grams
Like the aforementioned, Nokia Lumia 1320 also has a 6-inch IPS LCD screen, but in this case the low-resolution HD 720p (1280 x 720) as compare to Lumia 1520. Thus, with a density of 245 ppi, but otherwise the quality is pretty good.
In fact, levels of vivid colors, contrast and brightness are higher than usual in the middle range and are more similar to what we usually find in the high range.
As far as processor is concerned, this Lumia has a Qualcomm Snapdragon S4 chipset on which a dual-core 1.7 GHz along with 1 Gbyte of RAM is integrated, more modest than what we found on the Lumia 1520 (800 Snapdragon quad-core) but enough to Windows Phone move smoothly.
In previous Nokia Lumia, the microSD card feature was absent and this new Lumia brought this feature and added a plus factor to Lumia series.
Battery Life
However, the battery is the same as its big brother, so to have less powerful features, but its 3,400 mAh render excellently. The test results shows that it can hold more than two days without recharging (giving normal use), while if heavyusage is done then it is able to last more than 24 hours without breaking down. Consequently, we can say that battery backup is one of the strongest indisputable factors of Nokia Lumia 1320.
The Down-Point Camera
Lumia series is praised because of their unique pureview technology camera sensor but as expected Lumia 1320 is not featuring high-end camera sensor, there is 5MP rear sensor, which can click nice images, but even in broad daylight there is noise in images. Also, another down-point is the front camera with just resolution of only 640 x 480 pixels.
Design
Focusing on its exterior, the Nokia Lumia 1320 is built with quality plastic and boast a very attractive finish and modern.Yes, it gives a sense of fragility, and have to see how it resists in the longer run and almost always inevitable falls, but is not something we have to worry too much, since the housing is completely removable and interchangeable with other colors too.
Its weight of 220 grams is slightly higher than the Lumia 1520 (209 grams), and given its size and its conception as phablet is clear that we will not find complete comfort in this case if we carry it in pocket and we have to handle with both hands.
Benchmark Results
If we talk about the results of the benchmark AnTuTu, the 14,987 points of Lumia 1320 is away from the 25,000 achieved by big brother Lumia1520, but given the solvency of Windows Phone without the need for more powerful hardware of the time, there will be no performance issues (at least in the short to medium term).
Conclusions
With an undoubtedly attractive price (only 450 USD, just half of what it costs the Lumia 1520) and an enviable battery life, this Nokia Lumia 1320 will not disappoint those looking for a mid-range phablet based on Windows Phone, and also with connectivity LTE / 4G.
The behavior of the phone is excellent in general, and unless the camera is one of the sections that we value most when buying a mobile terminal, and no doubt it quality / price ratio in very positive manner. At present, if consider the price and performance ratio and we try to find a best smartphone then the solution is only available in the Android market and anyone can guess about which phone we are taking about. Yes, we are talking about Google Nexus 6 and now Nokia has brought a solution with this phone in Windows world.
No doubt it is worth buying that's our conclusion. Also, recently Nokia revealed its very first Nokia X android smartphone and there are rumors, soon we would see big brother of Nokia X that would be giving competition to upcoming smartphones such as Galaxy Note 4, LG G3, Nexus 6 and Xperia Z3. And Android plus pureview extreme camera sensor will take the competition to next level. Let's cheers, expect something more Nokia!