If you've ever lived in a home without artificial heating or cooling, you probably know all too well how uncomfortable this can be. In fact, until the invention of the modern air conditioner in 1902, many people suffered–sometimes fatally–during the hot summer months.
According to 19th Century American folklore, students didn't attend school in the summer for a variety of reasons that have long been attributed to myth. But one fact about the implementation of summer break was that without HVAC units, school buildings were too hot and unbearable for class, and this often resulted in heat exhaustion.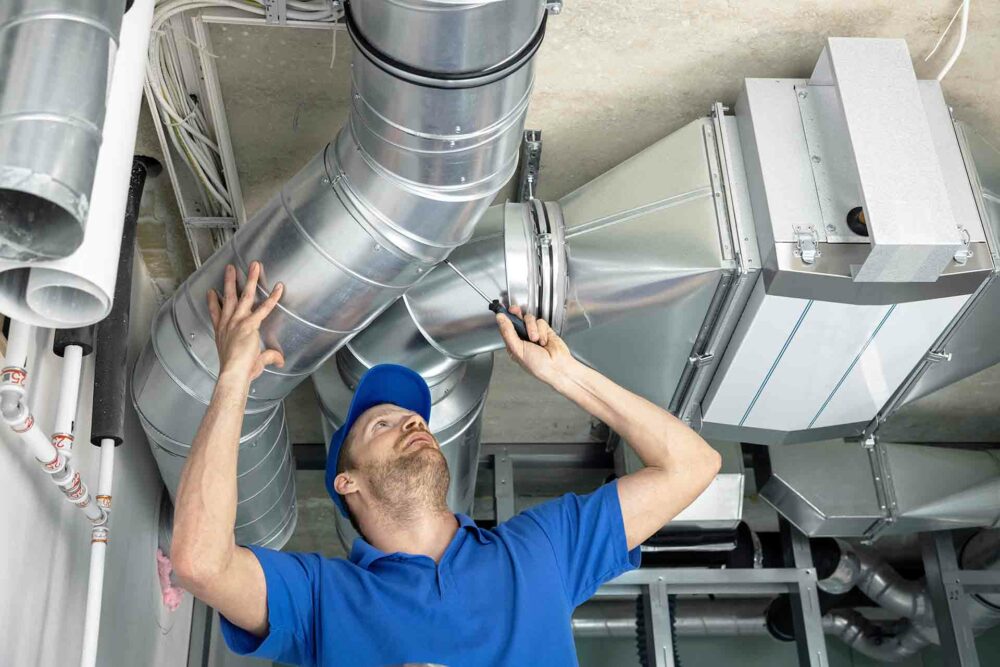 Though we're a long way from the time of seasonal school closings, HVAC units have become necessary equipment in order to maintain comfort throughout a building or a vehicle. And becoming an HVAC technician is a lucrative trade in the right industry.
Here, we'll explore how to land a job in the HVAC industry.
How to Land a Job in HVAC?
Getting into the HVAC industry requires a bit of a process, but you won't have to spend 8 years of your life in school to land a job in this field. In fact, with just a high school diploma or a GED, you can still earn a place in the HVAC industry.
Once you've graduated from high school or received a GED, the easiest way to begin an HVAC career is by obtaining an apprenticeship with a certified HVAC technician. This is where you'll learn the ropes, and begin your progression of on-the-job training.
At any point during your training, you should look into HVAC certifications. These certifications vary, but they will give you the certified credibility you'll need should you choose to work for another company, or if you want to establish your own HVAC business.
Types of HVAC Careers.
HVAC careers vary widely, and each industry where HVAC technicians are needed will correspondingly have varied degrees of pay that they offer.
For example, the Federal Aviation Administration (FAA) employs HVAC technicians to work on complex refrigeration and heating systems used in aircraft. And if you have the right training in the aviation space, you'll be landing in the highest-paid sector for HVAC employees.
In fact, FAA HVAC technicians earn an average of 80,000 per year, and this is 38 percent higher than the national average.
Other HVAC careers include the following:
Refrigeration technician.
Wind turbine technician.
Fabricator.
Air conditioning technician.
HVAC engineer.
HVAC installer.
Automotive HVAC technician.
HVAC instructor.
The types of careers within the HVAC industry are industry-specific. As such, you may need additional training within the industry where you intend to work. And most training programs offer options for certifications that are industry-specific for you to choose from.
Career Outlook for HVAC Technicians.
According to the Bureau of Labor Statistics, the projected career outlook for HVAC technicians as of 2021 is currently at 5 percent, which is lower than the national average for most trade jobs. However, this doesn't mean that a career as an HVAC technician isn't promising.
For example, there are thousands of HVAC jobs available across multiple industries today. And because HVAC systems have become more complex over the years, new technicians with up-to-date skills are needed more than ever to work on and install newer, safer HVAC systems.
Depending on where you seek employment, you may be required to have an HVAC certification. And having this certification is the best strategy for establishing a career as an HVAC technician while also holding more earning power within this industry.
Specialized training within the HVAC trade offers you real-world skills that can be applied to a variety of industries. And statistics have shown that most HVAC technicians remain in their jobs up until retirement.
So if you're looking for a long-term career with room for growth in multiple industries, becoming HVAC certified is a great strategy to consider.