So you are getting familiar with cannabis and experimenting with different methods of use — it makes sense that you will take your marijuana momentum into the kitchen to create fun and tasty edibles. Pot brownies are a well-known and a rightly praised staple of the weed baker's cookbook, but once you have found a "special" brownie recipe you like, you might get tired of the same rich, gooey treat over and over again.
If you are looking to test your cooking and your cannabis skills, here are a few edible recipes worth a try:
Latkes
An ethnic Jewish food that most gentiles would call "potato pancakes," latkes are crispy, savory treats that can serve as a side to a full meal or function perfectly as a snack on their own. These laid-back latkes rely on cannabis-infused vegetable oil, which the pancakes are fried in, and can get you and 11 friends healthily stoned.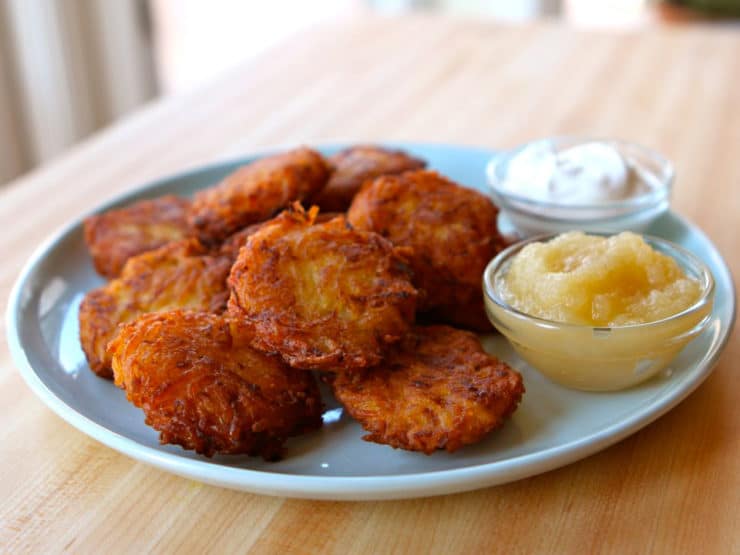 5 pounds Russet potatoes
2 onions
2 large eggs, beaten
1/2 cup all-purpose flour
1 teaspoon kosher salt
1 teaspoon ground pepper
4 cups cannabis-infused vegetable oil
Shred the potatoes and onions on a box grater or using the grating disc of a food processor. Squeeze the potatoes to remove as much moisture as possible. Mix the potatoes, onions, eggs, salt and pepper in a bowl; add the flour and mix again. Heat 1/2 cup of oil in a large frying pan over medium-high heat. Fry one heaping tablespoon of latke batter at a time, until golden brown on both sides. Serve latkes with sour cream or applesauce.
Foie Gras Pate
"Foie gras" translates to "fatty liver" — because that's essentially all it is. Fatty and delicious goose and duck livers are ground up into a paste and spread on crackers or bread for this decadent snack. To make it a bit more 420-friendly, this foie gras utilizes a glycerin tincture, which you can make at home beforehand.
1 pound foie gras lobe, separated into 2-inch pieces
1/4 cup garlic confit
1/4 cup shallot confit
1/2 cup sweet cooking wine
1 cup heavy cream
1 tablespoon salt
2 tablespoons glycerin tincture
4.5 sheets bloomed gelatin
Combine all ingredients in a food processor and blend until smooth and creamy. Serve with toast points and crackers.
Mac and Cheese
You don't have to get fancy to have a fun stoner snack. This green mac and cheese recipe tastes equally good with marijuana from Arkansas or from Southern California — plus it has a serving of vegetables alongside that cheesy goodness to keep your body healthy and avoid any munchie-associated guilt. You will need to make cannabis-infused butter, or cannabutter, for this recipe, which follows the same steps as cannabis-infused oil, linked above.
10 ounces baby spinach
1 cup parsley
1 cup basil
1 cup grated parmesan cheese
1 garlic clove
3.5 cups whole milk
2 tablespoons cannabutter
2 tablespoons regular unsalted butter
1/3 cup all-purpose flour
12 ounces grated white cheddar cheese
Kosher salt and ground black pepper, to taste
1 pound cooked elbow macaroni
Heat oven to broil. In a food processor, combine spinach, parsley, basil, parmesan and garlic; puree until chunky. Add 1/2 cup milk, and puree until smooth. Melt the butter in a large saucepan over medium-high heat. Add the flour and cook for 2 minutes, and then add the remaining milk and cook until thick, between 8 and 10 minutes. Stir in half the cheddar cheese, salt and pepper and cook until cheese has melted. Add the cooked macaroni and spinach and herb blend, stirring well to coat. Spread the mixture in a 9-by-13 baking dish and top with remaining cheddar cheese. Broil until golden brown and bubbly, from 5 to 7 minutes. Let cool for 10 minutes before serving.
S'mores
Finally, if you are looking for something fast and something sweet, you might throw together some "special" s'mores. Sometimes called firecrackers, these s'mores require only three ingredients and take just a few minutes to make. You don't have to be an experienced chef to make them, either, and you are free to experiment with add-ins, like marshmallows or chocolate.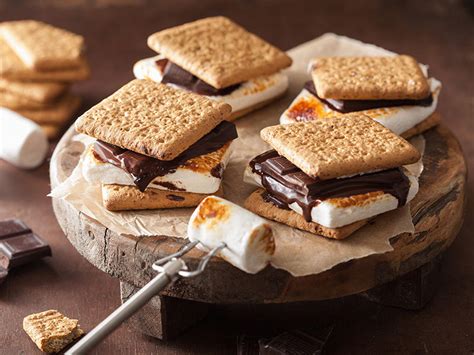 Peanut butter
Graham crackers
Ground cannabis
Heat oven to broil. Spread peanut butter on one half of a graham cracker in a thick layer. Sprinkle ground cannabis on the peanut butter, and place the other half of the graham cracker over top. Wrap in aluminum foil and cook for 3 to 5 minutes, or until the peanut butter is melted.
Cooking with cannabis pushes you to gain new kitchen skills and to combine new flavors in interesting ways. These recipes should jumpstart your cannabis creativity and get you thinking about how to make exciting edible creations at home.