Today, schools all over the globe are starting to adopt what is referred to as the "flipped classroom" – a relatively modern approach that inverts the traditional method of learning.
Rather than having students learning new material in the classroom, the learning occurs at home, before class.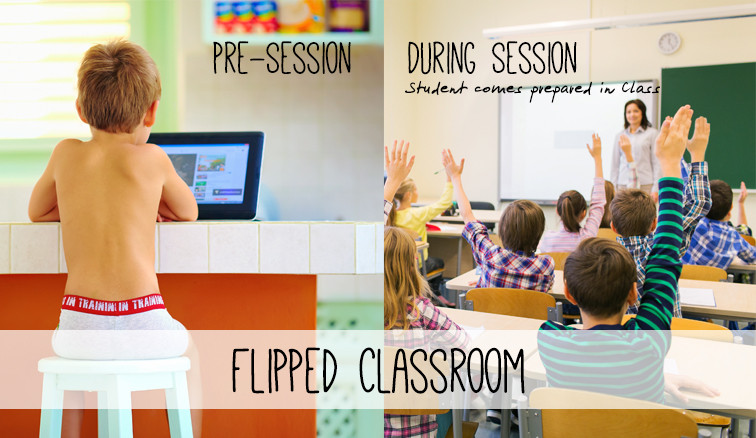 If you're an educator who is looking to flip your classroom, perhaps you've come to this decision on your own. Perhaps you've been instructed to start making these changes as part of an institution-wide initiative.
Whatever the case may be, you should know that creating a flipped classroom is no walk in the park. While the long-term benefits of flipping the classroom typically come with time, there are immediate challenges that can be difficult to navigate.
Here are five tips to consider while implementing a flipped classroom!
1. Choose a Capable Learning Management System (LMS)
If your school or class is not already using a learning management system (LMS), know that adopting the flipped classroom approach is going to be extremely difficult – and frankly, nearly impossible – to pull off effectively.
Whether you're an educator with elementary, intermediate, high school, or college classes, there are many reasons to use an LMS. Just make sure you choose a system is that is easy for your age group to navigate.
A robust LMS will allow you to post texts, videos, links, and other materials so that your students can access them, complete assignments, and communicate with classmates and instructors – all without leaving the system.
This will also make your life as an educator significantly easier. You'll know exactly where to go for completed assignments and student questions!
2. Create and Fine-Tune Materials to Accommodate a Flipped Classroom
When moving forward with a flipped classroom, you're going to need to create and provide materials that facilitate home learning.
At the very least, this will mean digitizing many of the different texts and resources you may be used to providing in a conventional classroom environment. At most, this will mean filming short, bite-sized lectures or instructional videos and creating assessments, quizzes, and tests that can be taken online.
Worried that these kinds of changes will limit your ability to communicate with your students? Despite these adjustments in technology, research shows that the flipped classroom approach improves student-teacher interaction.
3. Develop a Plan for Onboarding
Much like educators, many students will have been accustomed to traditional learning as you're making the transition towards a flipped classroom.
The last thing you want is for students to be left behind because they don't understand these changes or are unable to adapt to them.
Therefore, it's vital to have a plan of action in place — one that helps not only students but also parents come to a full understanding of the concept of a flipped classroom, the ins and outs of the LMS you'll be using, and the expectations for your classes.
This way, your students can feel confident when making the necessary adjustments, and their parents can serve as resources along the way.
4. Tailor Your Lectures to Meet Specific Learning Needs
Because the majority of flipped classroom learning occurs at home, you have the new task of determining what is most relevant to include in your physical classroom meetings.
Rather than performing a full review of the material already covered, you'll have plenty of time to observe student progress and identify the specific areas that need review.
If you are finding that students are struggling with a particular point – whether it's because you've noticed a common wrong answer on an assignment, quiz, or test, or because it has become an area of confusion in the forums – you can dedicate classroom time to reinforcing these areas.
This will limit the amount of classroom time that is spent going over concepts that are already well understood!
5. Foster a Collective Learning Experience
While you might assume that a flipped classroom hinders learning, it is not nearly the case. In fact, research suggests that both students and educators embrace the flipped classroom approach once they understand the benefits.
One of the benefits that makes a flipped classroom such a unique learning experience is the discussion and collaboration among students.
As students have more time spent with the materials, opportunities to communicate with each other abound. More often than not, you'll find that students are able to assist fellow students quite naturally.
So, rather than spoon-feeding information and answers to your students, allow them to use the resources and communication methods already available to them. This could be a group forum or a video chat.
This will not only help develop teamwork and problem-solving skills but it will also keep the entire learning experience engaging and fun!