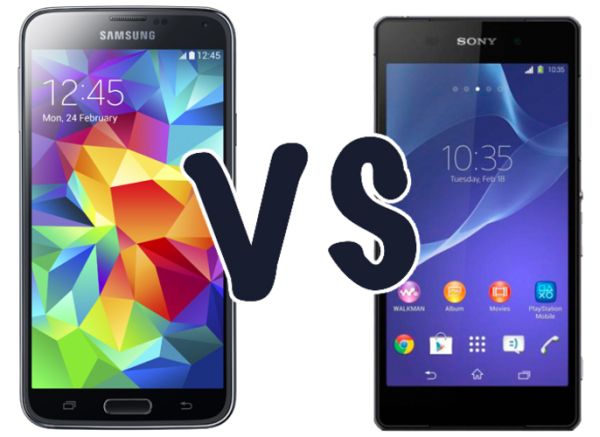 Today we compare the two newest super smartphones of the year 2014 i.e. Samsung Galaxy S5 and Sony Xperia Z2. Both devices are the best of what their manufacturers ??Samsung and Sony respectively, have made so far in the mobile devices. So, the battle will be interesting. Hardware, software, camera, design and dimensions are some parameters on which we can compare Samsung Galaxy S5 with Sony Xperia Z2.
Dimensions
Let's start with size. Both smartphones are equipped with approximately the same display size, but the dimensions of the devices are a bit different. In the case of Samsung Galaxy S5 it is 142 x 72.5 x 8.1 mm and 145 grams. In turn Xperia Z2 reaches 146.8 mm in height, 73.3 mm in width, 8.2 mm thick and weighs 163 grams. The difference is obvious that Samsung Galaxy S5 is smaller and lighter than its competitor.
Display
Flagship of Samsung is equipped with Super AMOLED display of 5.1 inches with a resolution of 1080 x 1920 and a pixel density of 432 ppi. While Xperia Z2 is equipped with IPS LCD display of 5.2 inches with a resolution of 1080 x 1920 and a pixel density of 424 ppi. As you can see, because of somewhat larger display from Sony Xperia Z2, it has fewer pixels per square inch at the same resolution with the S5. Although this difference is not very noticeable, but on paper flagship of Samsung wins.
Memory
Galaxy S5 is available in two variations with 16 GB and 32 GB, while the volume of phone memory can be expanded with microSD, upto 128GB. While Xperia Z2 is slightly inferior competitor with 16 GB memory + microSD up to 64 GB. As for RAM, in the case of S5 it is 2 gigabytes whereas, Z2 is staffed by three gigabytes. If we consider that even a 2 gigabyte would be enough for most modern games and multitasking, it wins again.
Connection
Samsung Galaxy S5 supports LTE cat 4, Wi-Fi 802.11 a / b / g / n / ac, dual-band, DLNA, Wi-Fi Direct, Wi-Fi hotspot, Bluetooth 4.0 LE, NFC, IR blaster and microUSB 3.0.
Sony Xperia Z2 – cat 4 LTE, Wi-Fi 802.11 a / b / g / n / ac, Wi-Fi Direct, dual-band, DLNA, Wi-Fi hotspot, Bluetooth 4.0, NFC and microUSB 3.0. As we can see, there is not much difference, so a draw in this case.
Camera
Galaxy S5 is equipped with 16 MP camera with the support of the AF sensor at 1/2.6″ pixels on 1.12 ?m, support 4K video and a whole bunch of other features. As for Xperia Z2, then we're talking about the camera with 20.7 MP, sensor on the 1/2.3 "which is same as in the case of S5 , however, the camera of flagship of Samsung allows you to change the focus after the picture is taken, but the quality of photos not getting any better. In fact, the Xperia Z2 defeats his rival, leaving him far behind in this case.
Operating System
Galaxy S5 and Xperia Z2 are equipped with the operating system, Android 4.4.2 KitKat, but with completely different user interfaces. Xperia Z2 interface looks more elegant and resembles vanilla Android, the latest version of TouchWiz and in some moments repeats Tizen. Good or bad, everyone decides for himself, but as far as innovation Sony Xperia Z2 is a clear leader here.
Design
Although there were rumours that the S5 will be packed in a metal case, but this did not happen and we continue to see a plastic device. Against this picture Xperia Z2 is much more expensive with smartphone covered with a glass cover, which gives it a more elegant look.
Battery
Samsung Galaxy S5 is equipped with a battery of 2800 mAh. In turn Sony Xperia Z2 has a battery of 3200 mAh. While S5, has a special energy-saving mode that allows a little to compensate for this difference, but a winner in battery comparison is Sony Xperia Z2.
Processor
The most important factor for a device is its Processor as its speed and performance is related with it. So this round can be called one of the most decisive round. So starting with Sony Xperia Z2, it is equipped with a quad-core Qualcomm Snapdragon 2.3 GHz 801 (Krait 400 + Adreno 330). On the other hand, Galaxy S5 is equipped with the same chip, but with a clock frequency of 2.5 GHz. However, the difference in the 200 MHz, which anyone hardly notice, so a draw again.
Conclusion
As you can see, both devices have a fairly solid performance. Each of smartphones have their own strengths and the winner's choice depends on what you want from your mobile device. Both devices have some advantage over the other, but lack behind in other comparison. So, nothing can be surely said, as both smartphones are really good and are capable of dominating the market.
With Samsung and Sony, the two giants in the smartphone industry, fight for the no. 1 spot continues with the new launches in future with Samsung Galaxy S6 and Sony Xperia Z3.