The holidays may be over, but you still have to deal with the risk of getting sick this winter season. While it's easy to stock up your home and business with plenty of tissues, not every business has the janitorial office supplies necessary to prevent employees from spreading a contagious illness.
We recommend the following 7 cleaning products to keep your employees safe this winter season. The CDC also recommends developing a cleaning plan to determine what areas of the office need to be cleaned, how they will be cleaned, and what equipment will be needed.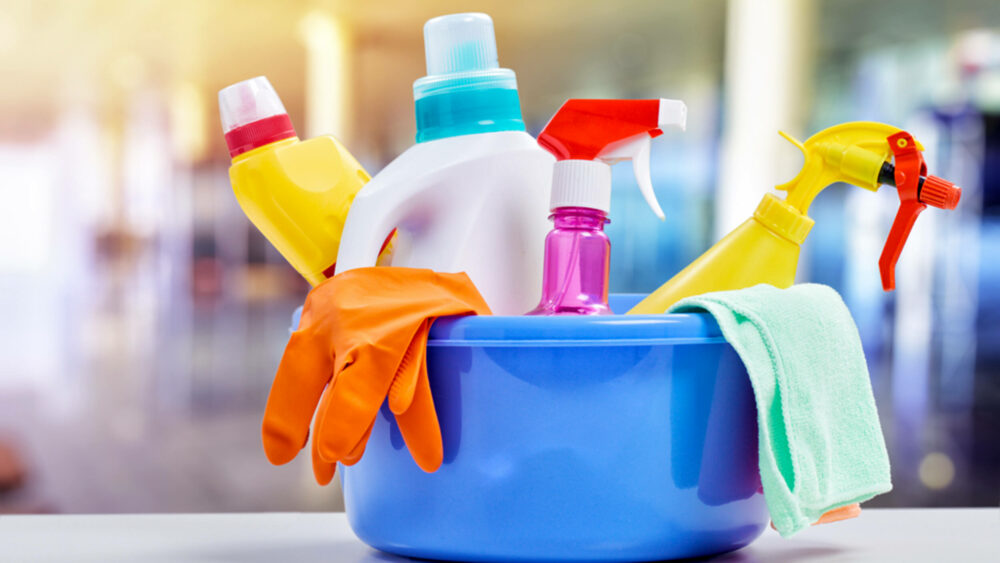 However, using these products will make a big difference.
1. Mops
Time to keep those floors spotless. When you wear shoes, you track dirt, garbage, and food from the ground to the office floors.
Germs can accumulate and build up quickly. Mops work best on hard surfaces, such as linoleum, marble, concrete, ceramic, and brick flooring. If your office has carpet, vacuums are preferred to suck up any buried food, hair, or dust.
Sweeping is also a dry option if mops are unavailable.
2. Bleach
Bleach is a disinfectant, not a cleaner. This means bleach has the power to kill bacteria and germs, but not dirt and debris. Bleach is best used in bathrooms because toilets and sinks are areas prone to germs.
Remember to never mix bleach with ammonia, vinegar, hydrogen peroxide, or rubbing alcohol. This could create noxious gasses.
3. Disinfecting Wipes
Disinfecting wipes are also designed to kill viruses and bacteria living on surfaces. It's best to wipe any hard surface such as countertops, doorknobs, desks, computer keyboards, and the computer mouse.
4. Paper Towels
Fabric towels and rags may be easy to have around the office, but they can become unsanitary quickly. Depending on how many people are using the same towel, germs can live on the fabric and become passed around to everyone using it. Obviously, this is dangerous during the winter, when spreading illnesses is more likely than any other season.
We recommend switching to paper towels in the winter to prevent the spread of diseases. The great thing about paper towels is that they are used one time by one person. Once a paper towel is used, it is disposed of and blocks germs from spreading.
Paper towels should be kept in the bathroom and office kitchen. If you're concerned about the environment, simply bring back the hand towel when spring comes around.
5. Disposable Gloves
In an office, hands touch everything — door handles, computers, pens, paper, water facets, etc. To reduce the spread of germs, disposable gloves should be worn when cleaning surfaces in and around the office. Disposable gloves also offer a one-time use eliminating sharing gloves or accumulating more germs on gloves.
6. Hand Soap
Hand soap can protect your hands when you are not wearing gloves. Hand soap will reduce the spread of germs you may have contacted throughout the day by touching your face, food, or phone.
7. Trash Bags
Trash bags are the only way to properly discard used disinfecting wipes, paper towels, and disposable gloves. You cannot have used or dirty items lying around, possibly spreading germs. Trash bags are also an easy way to clean up and store garbage in one place. They should be changed regularly to allow less waste residing in the office.
Conclusion
Office life can be anxiety-inducing if you are concerned about a contagious outbreak among your employees. Instead of worrying, stock up on these essential cleaning products and commit to using them. Using disinfectant wipes throughout the day might not come to you naturally, but it's worth the effort.