If you are a startup or a small business and you have just stepped into the online market to amp up the online presence of your business then building a blog should be first on your list. Having a good blog for your business or personal purpose is a must because you not only can promote your product, service or even information but you can also connect with people more and build a large brand while at it.
The best way to go about it is to install a WordPress theme on your blog that has been designed specifically to enhance the impact of your content without confusing you in all the unnecessary clutter that usually comes with building a blog. The best part though is that the theme is fully optimized and comes with a bunch of customizations that allow you to weave your website just the way you want. While you do all that and focus on writing content, you can rest assured that our list of Blog themes will look stunning on any and every purpose blog.
The themes we have collected in this list take the best features and functions of 2016 blogging themes and then wrap them under a minimal layer of all the elegance of 2017 to make your blog stand out from the rest of the crowd this year. While writing this post we also kept in mind that people usually want the best in the market for their blog, so we handpicked only the 15 Best WordPress Blog Themes for Creating a Stunning Blog in 2017, one of which, we are sure you will find great enough to glorify your blog this year.
MyBlog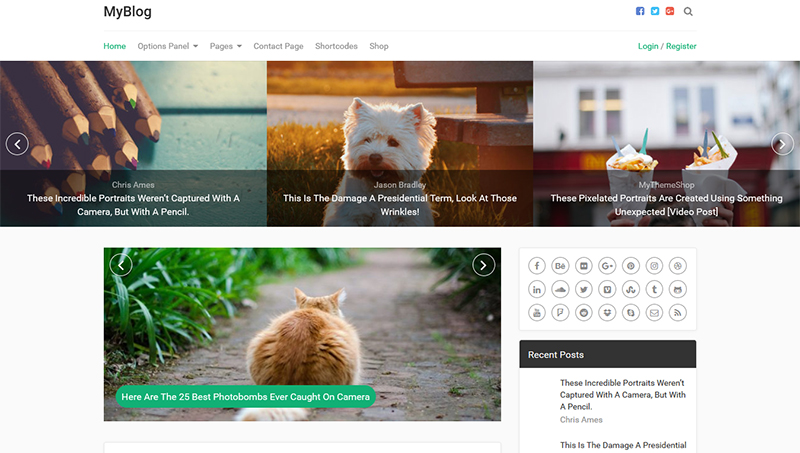 MyBlog is a theme designed exclusively for people who think of themselves as serious bloggers and want something equally serious for their content. The theme has all the essential features and functions that will help elevate your brand and transform it into a massive brand. MyBlog is a stunning WordPress Blogging Theme to help you cultivate the maximum output from your WordPress Blog.
Demo – Download
SociallyViral Free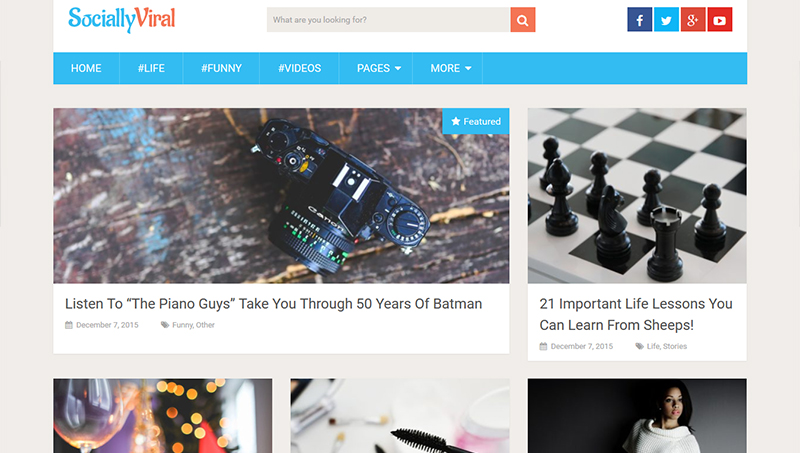 If you believe you have content that can intrigue people across social media circles and want something that takes care of the rest for your, then Socially Viral Free might just be the one for you. The theme promises to make your content engaging, fast and most importantly able to boost viral traffic. The cherry on top is that you do not lose on traffic from search engines as well. SociallyViral is one of the best free WordPress Responsive Themes made especially to take your WordPress site to a next level.
Demo – Download
Sensational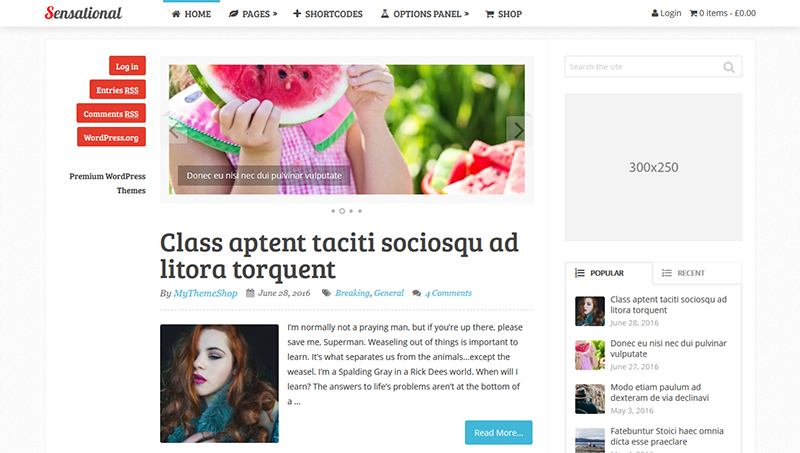 Convert your average looking blog into an absolute stunner with Sensational, a theme that has all the impeccable elements and design advantages that make it suitable for almost any type of blog. You can effortlessly play with color options and layout styles to make your website perfect for showcasing your content.
Demo – Download
Nexus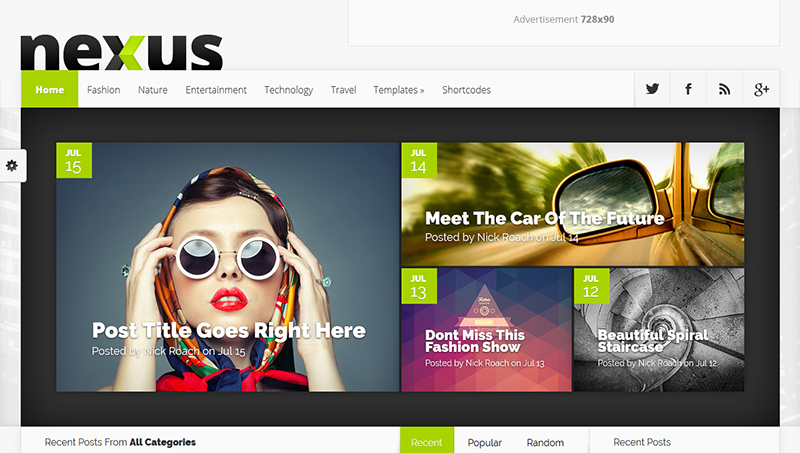 Nexus promises to give you full control over all the elements of your blog's homepage like a plethora of custom widgets to choose from and plenty of content modules to work with. The theme achieves better readability and structured content with its strict grid layout, typographical hierarchy and clean layout that essentially gives each element enough room to breathe.
Demo – Download
DualShock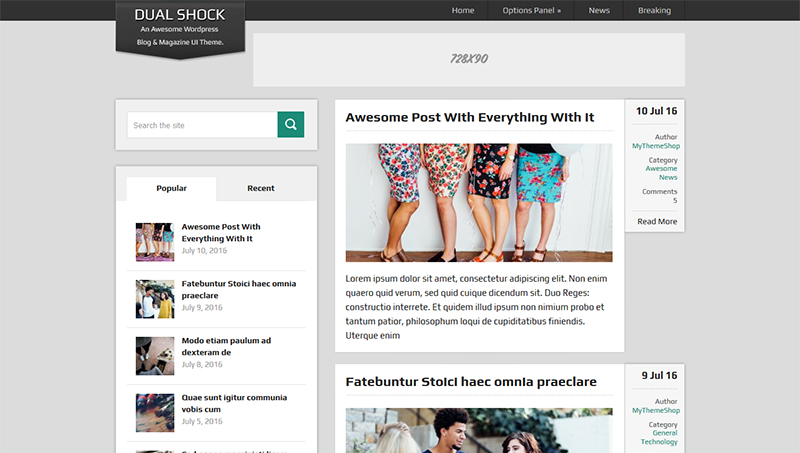 DualShock comes packed with a bunch of features including an advanced options panel, custom widgets, translation readiness and search engine optimization but that is not even the best part. The best part is that you get all of this and a lot more, absolutely for free.
Demo – Download
Pinboard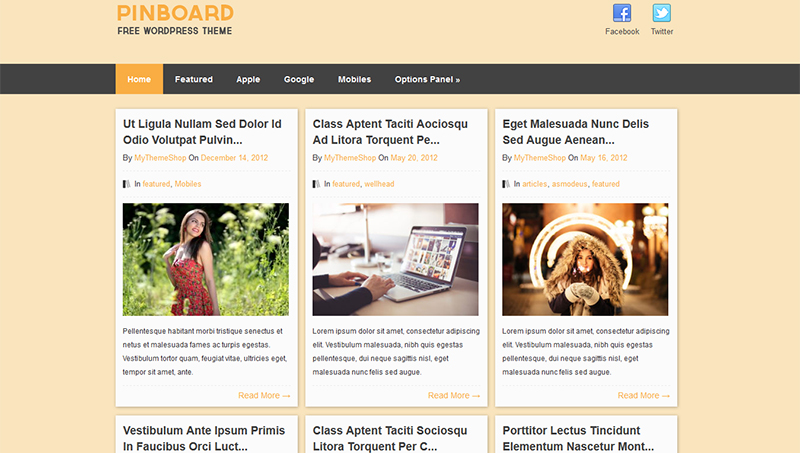 Pinboard takes all the design and functional cues from the all familiar Pinterest website and converts them into psychological triggers that force people into clicking more of your content. The theme presents a grid-based layout on top of unlimited backgrounds, color schemes and a bunch of customizations.
Demo – Download
Splash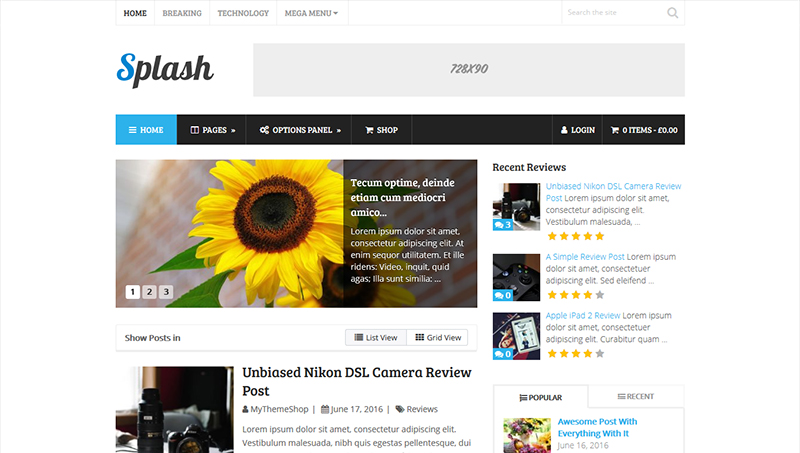 Splash is a perfect theme designed for serious bloggers, and it has all the essential elements and design embellishments that will enhance your content impact while the review blogging system ensures you can present best of your content to people who are interested in it.
Demo – Download
Uberto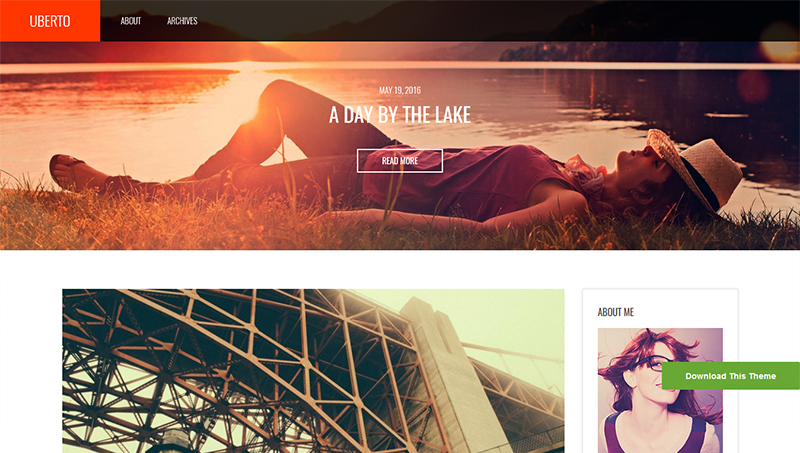 An uber cool design on top of a functional core is the strongest forte of Uberto. The theme promises to provide a truly unique design which is further accentuated with the theme's post formats, custom widgets, Jetpack support, multiple color schemes and above all, search engine optimization.
Demo – Download
Authority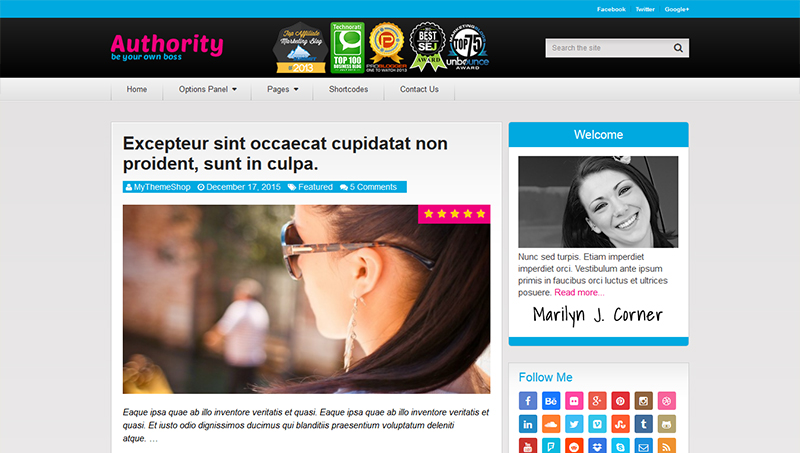 The most important thing that can single handily push your blog to excellence and success is how authoritative the content and the design feels, Authority promises to do just that and then a bit more. Modelled after Woodward's six figure blog, the theme has his full endorsement, and a lot of people are taking advantage of it, and there is no reason why you shouldn't benefit from it too.
Demo – Download
Point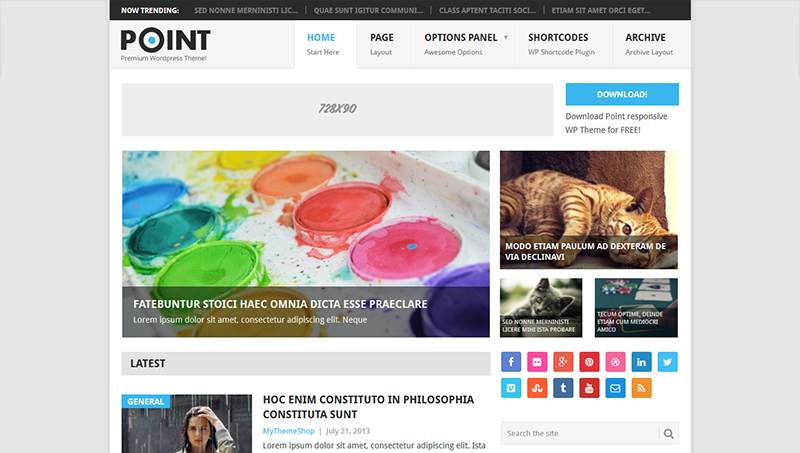 Put your point across with Point, a free theme that allows you to get a gist of how things are working, and if you like it so much, you can go Pro with the premium version anytime. The advanced options panel can be used to choose from multiple site layouts, backgrounds, color schemes as well as control the specific features of the theme.
Demo – Download
Amalie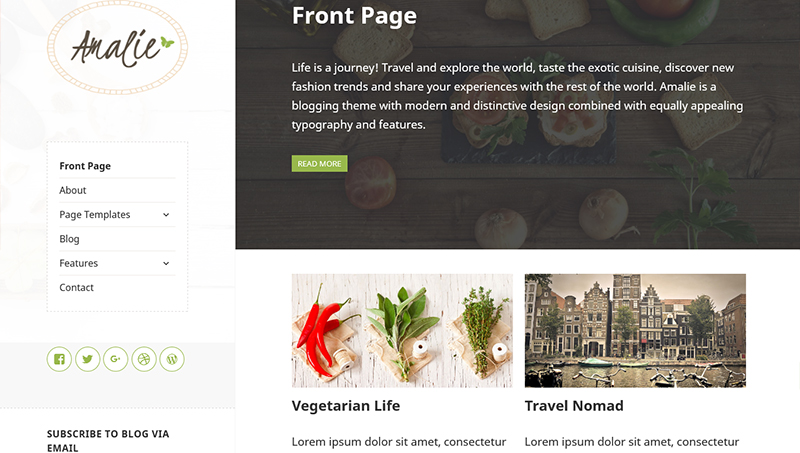 Amalie is based on the famous twenty fifteen design and has elegant elements and features of 2017 that make it great for you to use it as a stunning option for your equally stunning blog in twenty seventeen. The modern responsive layout and beautiful typography further emphasizes your content, so your visitors are immersed in your blog for hours.
Demo – Download
SocialMe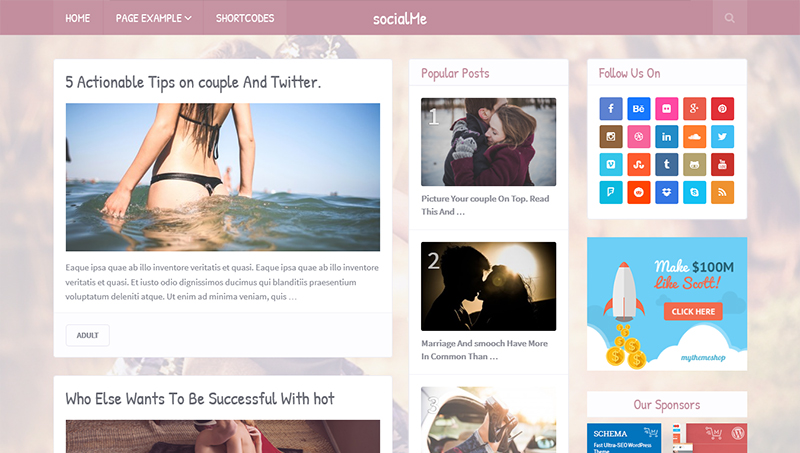 Engage you readers in your rich content and build a strong community while at it with SocialMe, a theme that is super light and modern looking that is perfect for creating social media heavy content.
Demo – Download
Playbook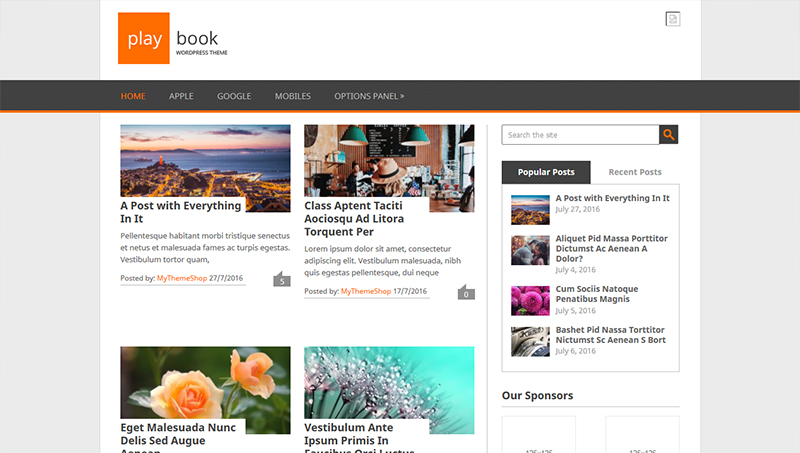 Playbook uses the traditional dual column post layout as its base and then wraps it under an elegant layer of all the modernism of fully responsive design and customizations to help you make a stunning blog that can attract attention even in 2017. Other features that you get access to free of cost include search engine optimizations, custom widgets, an industry grade options panel and much more.
Demo – Download
GridBlog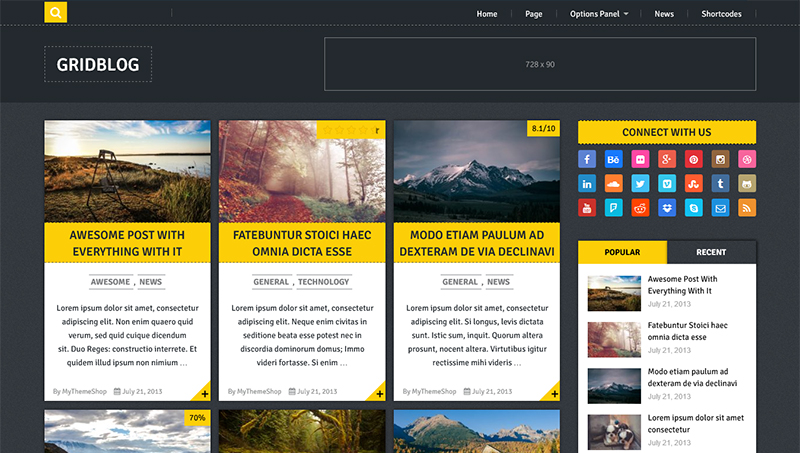 A theme that promises to bring a ton of features under your fingertips that you would otherwise usually expect from a premium one. The theme is overall very beautiful, modern and highly unique with a grid based layout. On top of all that the theme comes bundled with features, settings and customization options to help you design your website just the way you always wanted.
Demo – Download
Ad-Sense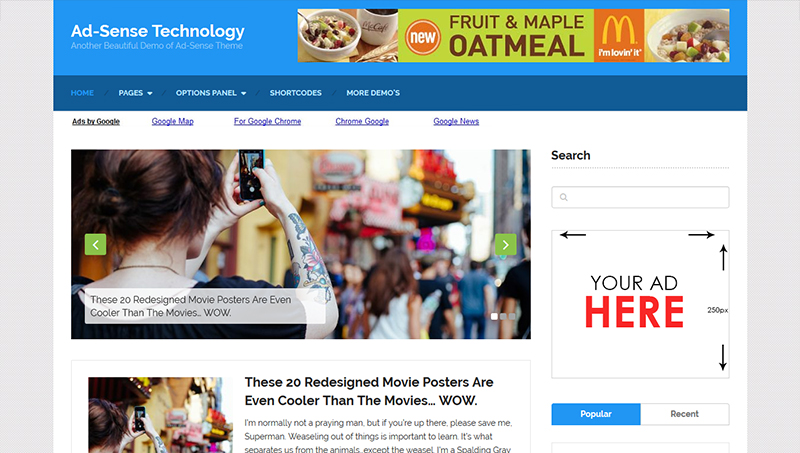 We all have to agree that any business or person interested in enhancing their online presence has to think about monetization at some point, and that is exactly what Ad-Sense is best at. The theme besides allowing you to optimize your website for monetization also manages to remain super fast to load and super pleasing to look at.
Demo – Download
These are 15 best WordPress blog themes for creating a stunning blog in 2017.