Many people want to make changes to their homes without the expense of a total renovation.
You can make changes inside and outside your home that won't require the help of a contractor or the expense that can tap out your bank account or make you create new debt. Decide where change is most needed and how to make those changes that will have the greatest impact.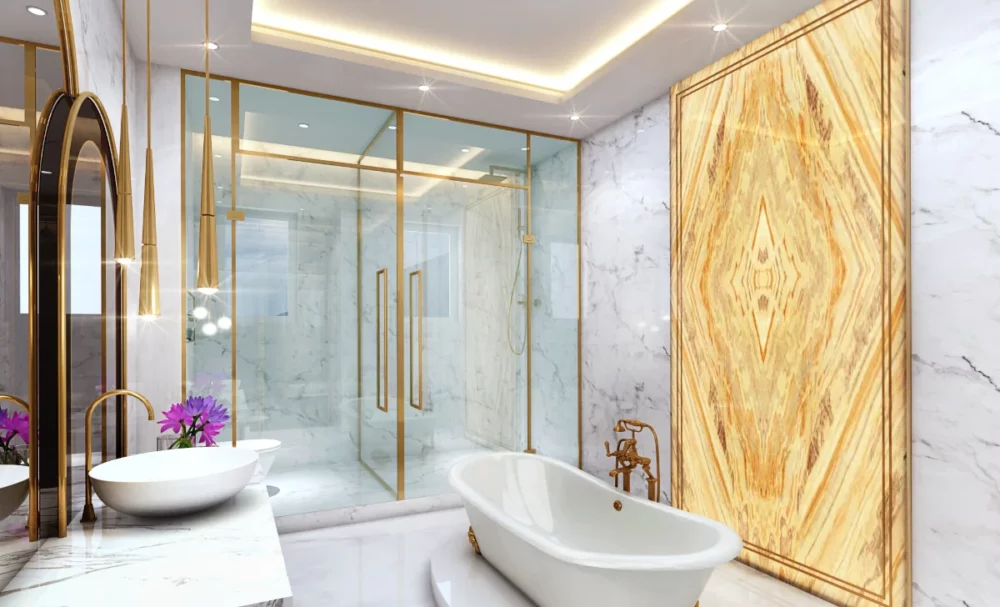 For many, updating their bathroom for a more relaxing and luxurious feel is a starting point.
Small Changes, Big Effects.
Whether wanting to make it feel more spacious, more luxurious, or more relaxing, small changes can have a big effect. One small change that can give your bathroom a touch of luxury is gold fixtures, hardware, and accents. There are many styles to choose from, from vintage to modern and contemporary. You are sure to find what you need, to suit your taste and sense of style, to help transform your bathroom into your relaxing, rejuvenating retreat after a long day.
Replace Old Faucets with Gold.
Replace all your hardware, sink, and bathtub faucets with gold or brass faucets. This will have a big impact, and you can add greater reflective glory with mirrors with gold trim. Whether you choose wall-mounted, Roman, or freestanding bathtub faucets, you are sure to have an elegant, luxurious touch in your facelift. Gold handles and knobs on your cabinetry and lighting fixtures all add to the elegance. You have only your budget to hold you back.
Tie it All Together.
Adding a rug to your bathroom and choosing matching towels and shower curtains can tie it all together. Adding designer dispensers for soaps and lotions can also be elegant touches. Your tiles and walls are other areas you can change and upgrade without the expense of tearing out walls and redesigning floor space. Adding wood veneer, bamboo accessories, and other wood-like surfaces, including reclaimed wood, also adds style.
Updates and Upgrades.
If you really want the type of renovation that requires the help of a contractor and the expense of building and construction materials, you may not have the cash on hand and require financing options. If you take the money you may have been saving for such a renovation and apply it to give your home updates, upgrades, and new styling, you can have a home that reflects your personal style and taste without additional debt. Once you have given your bathroom a feeling of comfort, luxury, and relaxation, you may decide it is time to update your kitchen to make it more stylish and efficient.
Enhance the Mood.
There are still many ideas to explore for updating and up-styling your bathroom. From artwork to shelving and storage, you can enhance the mood as well as provide convenience. Practical items such as a tub caddy to hold your beverage, as well as your favorite bath salts and oils, can have a transformative effect. Trays and baskets are both convenient and stylish. Plants can also add a spa feeling to your bathroom. They add an air of sophistication and styling that is both inviting and relaxing. You can change your walls to give your bathroom the glow of sunrise and sunset, or a green to feel like you are in nature.
Candles and Other Light.
If you love the glow of candles but don't like their potential to cause fires, flameless candles are the answer. Pendant lighting can also add an elegant touch without being overly large or ostentatious as a chandelier. TheSpruce.com offers ideas to help you make your bathroom more luxurious and spa-like. Your kitchen, family room, or bedrooms all can get facelifts, one room at a time, in a way that fits into your budget. Just decide what changes and improvements you want, and use your own sense of style to make them.
Changing your home to be a reflection of your style and taste will avail both a greater sense of pride and accomplishment. You can also incorporate a reflection of your lifestyle, whether you are a health enthusiast, a nester into crafts, or a busy nine to fiver. Your sense of style is what makes your home uniquely appealing.