The virtual sector comes up with live streaming videos every now and then. There are how-to tutorials, educational or business webinars, entertainment videos and so on. But the problem is that the online video sites do not usually offer the download option and hence it gets really difficult to watch a streaming video – if you are not free at the scheduled time. However, that doesn't imply that you can't watch the live streaming video. There are screen capture software programs today that work to record a streaming online video and save it in your computer.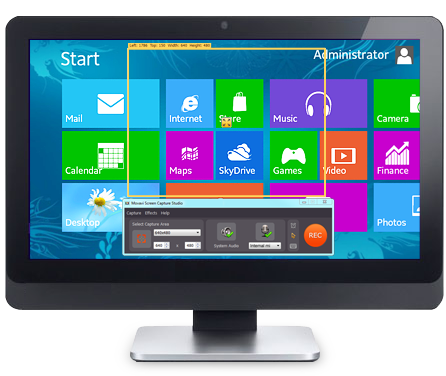 If you are looking for suggestions on which one to go for, take to Movavi Screen Capture Studio. It's one of the best screen recording software programs today and assures a top notch performance. It should be stressed here that Movavi itself is an award winning & internationally acclaimed brand. Such a high reputation is certainly the live proof of a top notch performance. Below is a brief review on the Movavi Screen Capture Studio.
To start with, the Movavi software assures a customized capture as per your preferences. You would be able to set the capturing parameters, adjust frame rate & set your desired recording area. The Movavi program enables you to record videos is full-screen or in parts. In regards to frame rate, you will be able to capture video at up till 60 fps.
Then, the Movavi Screen Capture Studio enables you to record audio from any source. You would be able to record sound from headphones, audio sets, microphones & MIDI devices. The software is even able ro record Skype calls.
It's to note here that the Movavi Screen Capture Studio comes up with a capture timer that allows it to capture the streaming video automatically. You would need to set a time limit on the capture timer on which the software will start to work on its own. It would stop to record automatically when the timer will reach to your set duration. This way, you won't be needed to leave all your work and sit all through the capture. The Movavi program will further allow you to take screenshots while the recording is going on.
The Movavi Screen Capture Studio is not only about screen capturing. The leading screen recording software program is designed with editing tools as well. You might wish to personalize the captured video and Movavi assures great help here. The software is able to cut the video in several parts & remove the unwanted elements. Then, it would allow you to add on subtitles & background music to jazz up the recording further. Most importantly, the Movavi software comes up with filters. These filters are a great aide to correct the visual mistakes of a video.
It's to stress here that the Movavi Screen Capture Studio is compatible with versatile range of media formats. In fact, it supports all popular audio-video formats & major mobile phone systems. Thus, you will be able to save the recording in any preferred media format.