Every year, as sisters search for the perfect rakhi for their brothers, the brothers embark on a quest to find the ideal gift for their sisters. Nowadays, many brothers prefer to wear their rakhi for an extended period, beyond 10-12 days.
As a result, sisters have started considering silver rakhi bracelets as an alternative to the traditional thread rakhi. A silver rakhi bracelet possesses its unique allure. Silver, an auspicious precious metal, adds to the charm of the rakhi design.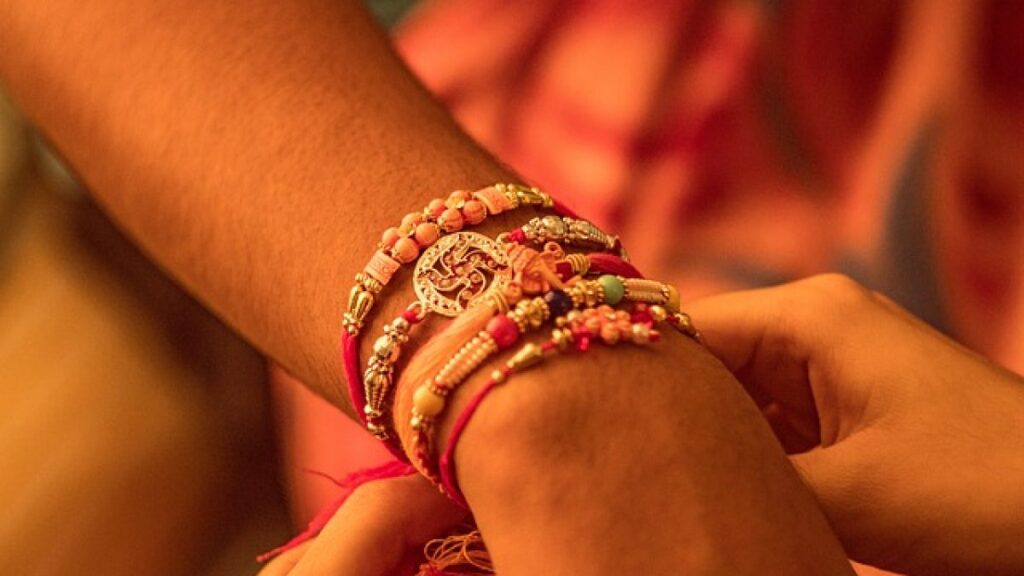 Silver, following gold, is another valuable metal that represents good fortune and wealth. In Hinduism and its various traditions, silver holds great significance. It is also associated with grace, modernity, and elegance, making it an excellent choice of material for a rakhi. If you want to explore a collection of silver rakhi bracelets that perfectly encapsulates every sibling relationship, then keep reading.
Silver Rakhi Bracelets for Your Brothers.
For the Gym Addict Bhai.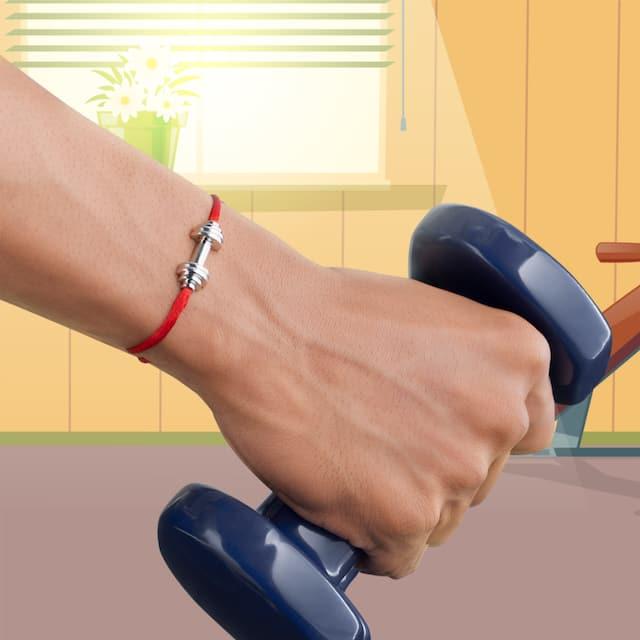 If you have a brother who loves to spend hours powerlifting at the gym, why not go for a dumbbell-shaped silver rakhi bracelet? The Dumbbell Rakhi is a symbol of strength and fortitude that makes the perfect gift for brothers who strive to outshine the crowd with their fitness and dashing appearance! Crafted with meticulous attention to detail, this rakhi combines the essence of tradition with a modern twist. This silver rakhi bracelet features a stunning dumbbell-shaped centerpiece, exuding power, and resilience. Its intricate design showcases the dedication and determination of your fitness-conscious brother. With its sleek and polished finish, this silver rakhi bracelet will capture attention and complements your brother's strong personality.
For the Book Lover Bhai.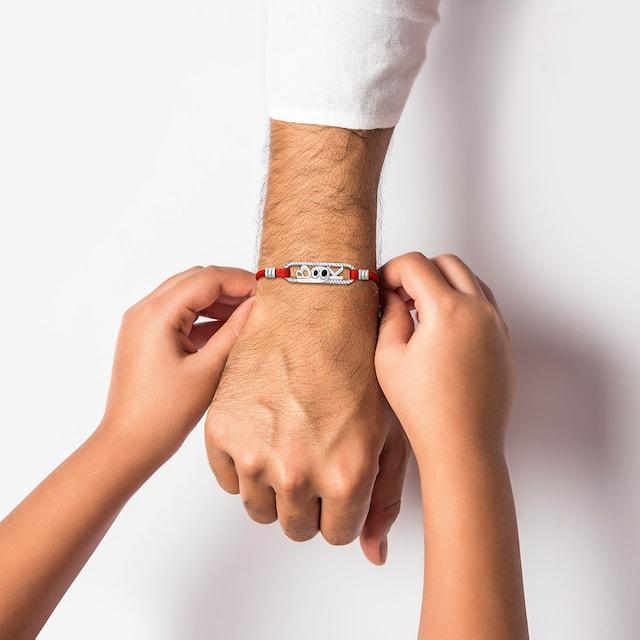 A delightful choice for brothers who have a deep passion for books, this Book Lover's Rakhi is designed to encapsulate the essence of their literary interests. It is a perfect tribute to your brother's love for the written word. This silver rakhi bracelet features the word "book" elegantly crafted with a touch of whimsy, complete with playful and goofy eyes. This creative design perfectly captures the spirit of your reader brother, reflecting his unique personality and interests.
For the Bhai Who Has Wanderlust.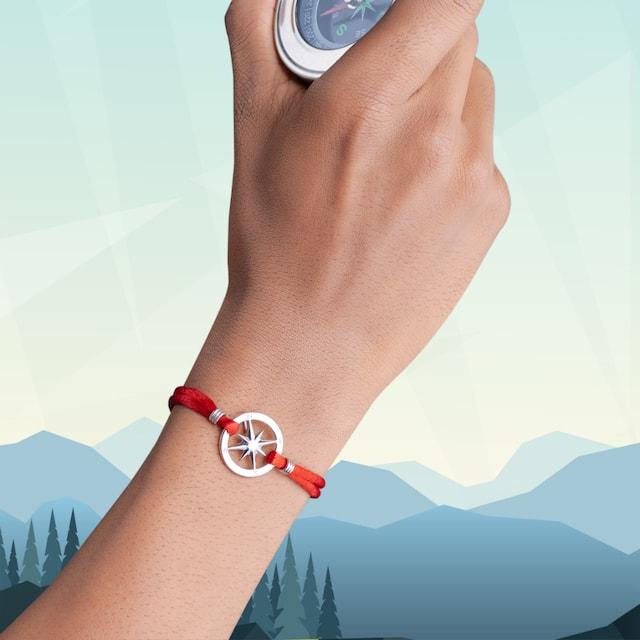 This compass-inspired silver rakhi bracelet is the perfect choice for brothers who possess the soul of an adventurer and the heart of a wanderer! If your favorite brother is always seeking new horizons and embracing the thrill of exploration, this silver rakhi bracelet is designed especially for him. The intricately crafted compass symbolizes the unyielding spirit of adventure in your brother's heart. With attention to detail, the compass motif reflects his desire to navigate uncharted territories and embark on exciting journeys.
For the Techie Bhai.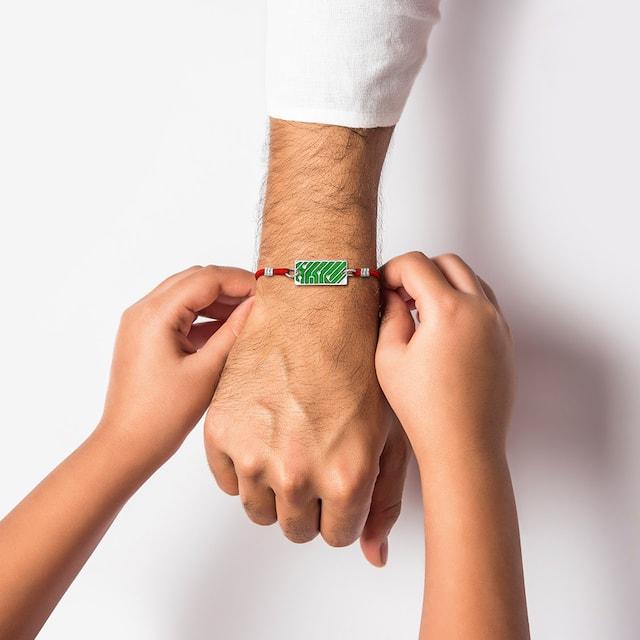 This silver rakhi bracelet is the ideal choice for your nerdy brother who is captivated by circuits and systems! If your brother finds joy in unraveling the mysteries of technology and is fascinated by the intricacies of motherboards, this rakhi is specially crafted for him. This silver rakhi bracelet showcases a remarkable motherboard motif, intricately designed with green enamel and delicate detailing. The green color represents the vibrant energy of technology and symbolizes growth and innovation.
These silver rakhi bracelets are crafted with meticulous attention to detail, ensuring durability and style. They serve as lasting symbols of the unbreakable bond between siblings, capturing memories and celebrating shared interests. So, this Raksha Bandhan, surprise your brother with a silver rakhi bracelet that perfectly reflects his passions and showcases the depth of your bond. Let these symbolic and beautiful pieces become cherished mementos of your unbreakable relationship. Shop Mia by Tanishq's silver rakhi collection today and explore their variety of high-quality silver products.