Public relation is a field concerned with maintaining public image for high profile people, commercial businesses and organizations, nonprofit associations or programs. Public relation is everything from an attitude of mind down to a minute detail in the successful implementation of a program or a campaign. It is simply stated as, "the art and science of building relationship between an organization and its key audience". PR (Public Relations) Tools are the materials that can be employed to get maximum advantage and used widely all over the world. Let's see what the most usable tools in Public Relations are and how they are used.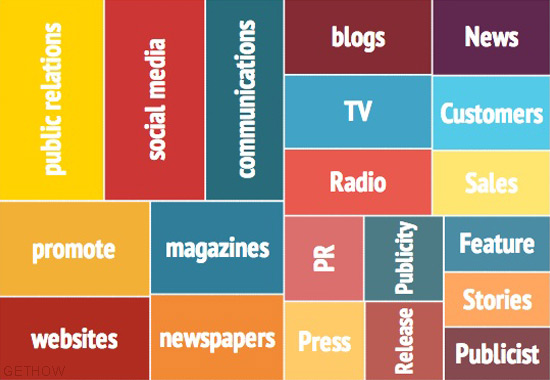 The top 10 Public relations tools are described in brief below with their examples.
Corporate / Business Brochures
It is a type of communication material which conveys the reader about the corporate vision and mission, its products, operation, facilities, collaborations etc. It is usually unique in design and printed exclusively to distribute among the partners, governments officials etc.
Annual / Financial Reports
It is a type of financial PR of a financial document which gives all the financial details of the company on an annual basis. It includes information such as balance sheet, profit and loss account, the auditor's statement etc. This has to be given to the share holders of the company to repute it to public relation.
Newsletters and Articles
An informal printed report which gives the information mailed regularly to members and other interested users of selected groups, societies, governments, NGO (Non Government Organizations), Insurance companies. They are publishing newsletters which have an advantage of speed and are quick to read.
Special Events and Sponsorships
Events marketing and corporate sponsorship are used as promotional strategies to increase the sales and image of the company or its products. Celebrity advertising and endorsements of the product through models, beauty queens, sports stars especially cricketers add in attracting maximum public relation. Events like IPL (Indian Premier League), World Cup, Common Wealth Games and Fashion Weeks are on the list of sponsorship. Companies buy the sponsorship rights for further promotion.
Websites and Blogs
With advent of Information Technology and Interactive Media, E-commerce, the PR Personnel prepares web pages to connect with the worldwide internet audience. A blog can be an extension or a website or it can be one's own website. Here a company or an individual interact with their external audience.
Press Conference
An event conducted by the company where all the journalist fraternity from press media is invited to assemble and allowed an interrogative session with the company. The company spokesperson deals with all the replies and inquiries of the media. A company makes its own news and gets it published through media, i.e., Press Release.
Posters and Wall Pictures
A poster is a document which is displayed in public places as an announcement or advertisement. It also includes pictures of illustration. It also provides an opportunity to a by passer to see and read. It draws attention of the visitors used widely in special promotion. Bill boards are pated on walls and flyovers/bridges are common for this.
Handbooks
It is an informative form of written communication. It provides important information relating to policies, rules, procedures, practice as well as how to do a particular task. It serves as a ready reckoned guide to the new employees. It contains information related to the history, vision, mission, background, growth, development, structure, policies, rules, procedures, etc. of the company.
Videos and Films
Public relation personnel works round the clock in preparation of public service films and institutional advertising. Audio/Video presentation creates an impact and is persuasive forms of communication which can be used on several occasions such as product launches, training programs, dealers' / brokers' meet. It is considered as a cheapest and effective way to raise funds for expansion.
Meetings and Seminars
Large scale companies host national and international seminars and conferences of professional of professionals, scientist and research analysts in order to develop links with other organization. This is a kind of public relation which runs only with company to learners.
Public relation tools are really helps in facilitating positive publicity and fosters a favorable image of the company. It is thinking of business's benefits with customers' satisfaction.