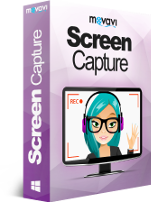 If you have never captured video footage from your screen in the past then the first question you will probably ask yourself is: Why is it important that you know how to do so? Although at first glance it may seem that screen capture is something most people can do without, the fact is that it is actually a lot more useful than you realize.
Imagine being able to record streaming videos that catch your eye, or those useful webinars that you aren't able to watch live? How about recording your Skype business calls and saving them for future reference, or even producing your very own 'how to' video guides and tutorials?
As you can see, screen capture has a lot of applications that stretch across both your work as well as everyday life. But in order to cash in on its potential you need to be able to capture the video footage you need in the first place – which is what the Movavi Screen Capture does best.
User-Friendly and Intuitive
The biggest hurdle that most people face when they try to use screen capture is the fact that it tends to be complicated and technical in nature. For ordinary users, it is often discouraging to find yourself faced with tons of menus and settings that you don't understand and can't figure out.
The good news is that the Movavi Screen Capture emphasizes and accessible and intuitive approach that makes it extremely user-friendly. Everything that you need to capture your videos will be just a few clicks away and you'll be able to fully learn how to use its features in minutes – at most.
Comprehensive and Capable
On top of being easy to use, the Movavi Screen Capture is certainly more than capable – and has a comprehensive set of features that cover practically everything needed for screen capture.
When you're using it you'll have full control over all aspects of your recording, and will be able to set it up to capture the specific area that you desire (or the entire screen), choose the frame rate, and even set it to record audio from a specific audio source such as the system audio or a microphone or MIDI device.
If you're creating video guides or tutorials then you can even get the Movavi Screen Capture to record your keyboard and mouse actions. Any keys that you press will be displayed on the screen and recorded, while your mouse cursor will be highlighted and its clicks will use a custom sound of your choosing.
When it comes to video recording software, the Movavi Screen Capture certainly does exactly what you need it to do. As an added advantage it even comes with hundreds of presets that are tailored to different devices and platforms so all you need to do to optimize the videos that you create is select a preset from the list.
Be sure to try it out and see firsthand just how easy it can be to create great screen capture videos with the Movavi Screen Capture.