Aadhaar card constitutes a random-generated unique number that serves as a proof of address and identity across India. It is the first card that stores a person's biometric and demographic details such as fingerprint & iris scan. Aadhaar card is fast becoming a government's base for a number of public welfare schemes. One can use this card in the acquisition of passport, to get a monthly pension, in PF disbursement process, to get LPG and other government-based subsidies, etc.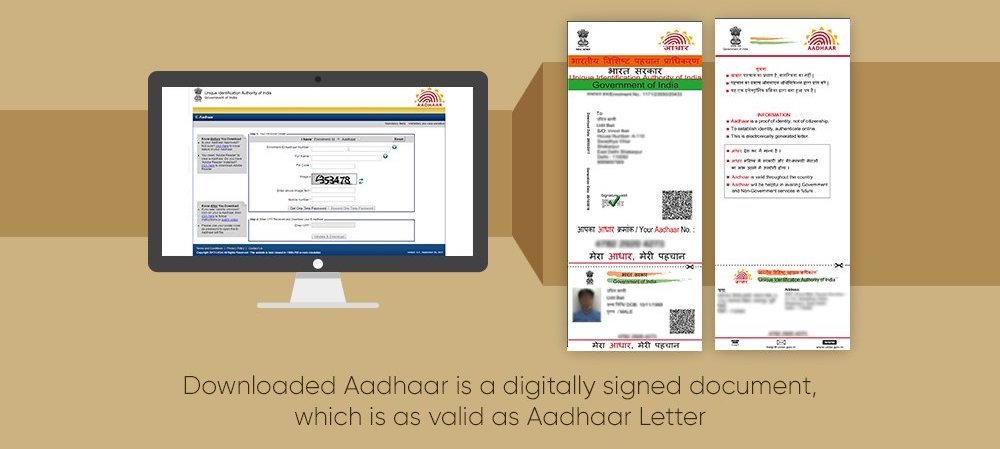 If you have lost your Aadhaar card, you can download an e-copy of Aadhar. Generally, it requires you to furnish your mobile number for the same but by simply following the below mentioned steps you can download your Aadhaar card without providing your mobile number. This mainly applies to the case when you have not linked your mobile number with Aadhaar or perhaps changed the previous number or have entered the wrong mobile number.
Steps to download an Aadhaar card without providing a mobile number
#Step 1: Visit the official UIDAI website.
#Step 2: Go to "Aadhaar Card downloads" option.
#Step 3: Fill in the Enrolment ID or Aadhaar number, enter your full name, your PIN code and mobile number (enter the number on which you want to receive an OTP).
#Step 4: Click on "Get One-time password".
#Step 5: Enter the OTP that you have received on your mobile number that you have entered in the form.
#Step 6: Click on "Validate and Download" tab.
#Step 7: You can now download your Aadhaar card that has been displayed on your computer screen.
#Step 8: The file to download a copy of Aadhaar card is password protected to make it secure. Your PIN code is the password that you need to enter in the box to open and download your Aadhaar card.
#Step 9: After downloading the copy of Aadhaar card from the official UIDAI website, open the downloaded PDF file using the Adobe Reader. When the file is opened, you can print the file by simply using the shortcut CTRL+P or you can also print the file by simply clicking on the "Print" tab present on the "File" menu of Adobe Reader.
In case you do not have a printer, you can copy the downloaded file and transfer it to the pen drive, hard disk or any other memory device and then get a print out of it whenever you want. The procedure to download original and duplicate Aadhaar card online is same as above.
You can print a duplicate copy of your Aadhaar card, if you have lost the original one or if you need a copy of it for another purpose. Keep in mind that the duplicate copy of Aadhaar card or the e-copy of Aadhaar card is equally valid as the original card. So you need not have to worry if your original card is lost in any circumstances, using the copy will equally be sufficient for that matter.
Downloading Aadhaar card without providing a mobile number is easy and time-saving process thanks to the internet. It is a way simpler than getting a copy of your voter ID and PAN card. This is the reason why Aadhaar card nowadays perfectly substitutes all other documents that were once treated as an essential credential for a variety of purposes.