Aadhaar Card holds the unique number issued to every citizen in India. Aadhaar Card number is a universal and centralized identification number necessary for various identification processes in different sectors. Aadhaar card is the biometric card storing the personal details of individuals in the government database for the welfare of the public as well as citizen services. Since your Aadhaar Card is essential for everything, it is necessary to keep it carefully. In case, you have lost or misplaced your Aadhaar card anywhere then it is important to get the replacement immediately. You also have the options to download the duplicate Aadhaar Card online when you have lost the original. You can take the PDF version of Aadhaar Card and have a peace of mind to have a spare copy to hand.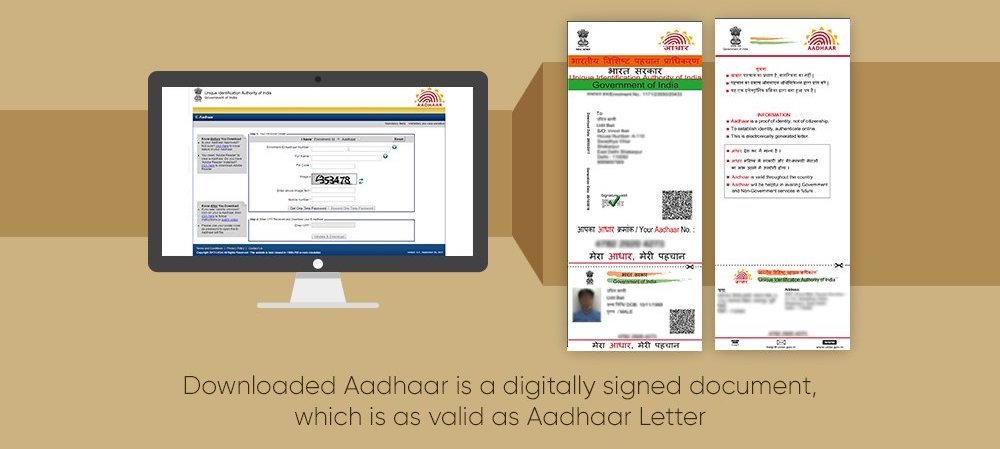 How to Download eAadhaar Card if Lost Original?
When you have lost or misplaced your Aadhaar card, it is most important to obtain the duplicate card. Follow the below process when you have lost or misplaced your Aadhaar Card so that you can easily get your electronic version or E-Aadhaar card download. When you have received the SMS confirmation denoting 'Aadhaar Card is processed successfully' then it would be quite easier to get the eAadhaar Download.
Visit online portal or click the link https://eaadhaar.uidai.gov.in
Follow on-screen instructions
Complete basic personal details
Add your enrolment number (if you still have it)
Click on Tab denoting "Get One Time Password" message on screen
Wait for 'One Time Password' sent to your registered mobile number via SMS
Select 'Enter OTP' section on the display
Enter your OTP sent
Click tab stating 'Validate & Download'
New page will be opened on the screen
Click option 'Download Aadhaar Card'
Enter your residence Pin Code
Click "Duplicate Aadhaar Card in PDF Format"
Print off a copy
Click here online portal
Before processing the complete print out copy, it is necessary to check the process thoroughly for any kind of mistakes. In fact, it is also considered as the best opportunity for updating all personal details that are related to the Aadhaar Card. Following all these steps would be a great option to e aadhaar download with required updates. Process for getting the duplicate Aadhaar card is quite easier as to depend on two things
Having Aadhaar number (or Acknowledgement Slip)
Not having or cannot remember the Aadhaar Card or acknowledgement slip
Alternate Methods to Get Duplicate or Replacement Adhaar Card
Apart from downloading the duplicate or replacement Adhaar Card online, there are 2 other ways to obtain the replacement for a lost card. They includes
Contacting UIDAI (Unique Identification Authority of India)
Contacting the Local Enrolment Centre
Unique Identification Authority of India (UIDAI) has toll-free phone number used to contact the officials when your card is lost. Officials would send you the appropriate enrolment number to the registered mobile number via SMS and to email address. When the Aadhaar Card is lost, you can also contact the regional office for notifying about fact you have lost your card. It is necessary to have the original supporting documents used in the initial application. it is necessary to have  photocopies of these documents.