Setting up a good home theatre system can be a dream DIY project for you. However, recreating a cinema-like environment within the confines of your living room is no easy feat. In fact, apart from identifying generic needs, you will also have to narrow down on particular specifications like screen size, sound frequency range and placement of units by keeping in mind the audio-visual aspects of your room. Essential additions to home theatre arrangements are a good LED TV and powerful surround sound speakers. However, you can also add elements like soundbars and a projector to broaden the scope of your entertainment.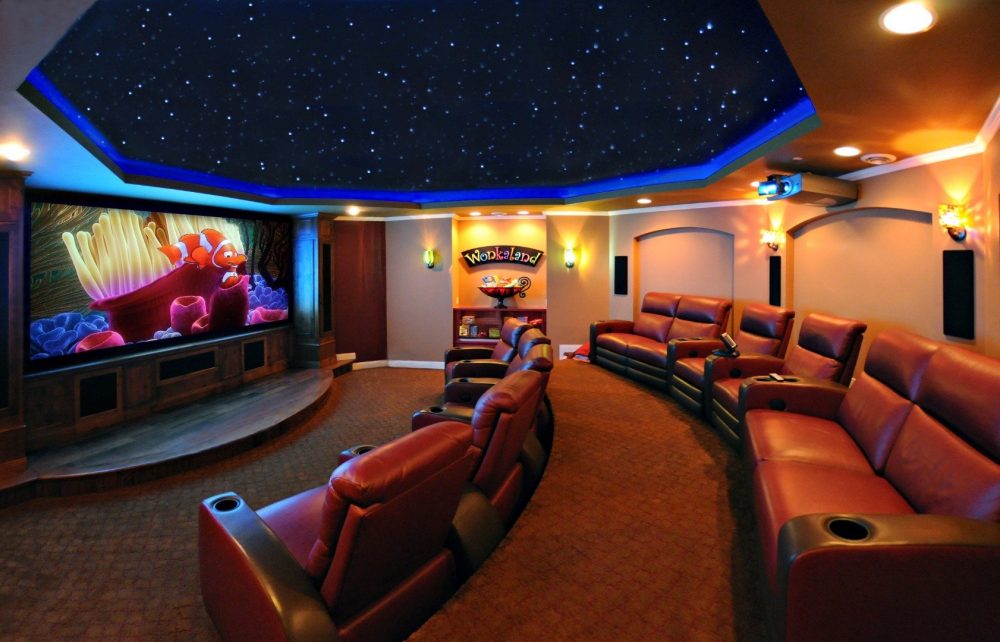 Nevertheless, buying all the items at the same time can be heavy on the pocket and tough on your budget. But since it's essential to the working of a home theatre system that you have all devices running together, it's ideal that you set up your room in one go and look for a convenient way to finance your purchases. One way to do so is to buy your electronics from the Bajaj Finserv EMI Network.
This extensive marketplace, comprising over 60,000 partner sellers, offers products on No Cost EMIs. This allows you to split your payments over a tenor of 3 to 24 months while restricting your spending to the item's purchase price and nothing more. To shop here, all you need to do is use your EMI Network Card or opt for in-store financing in case you do not yet have the card.
Now that you know how to make multiple purchases feasible, take a look at the products you should consider buying to build your home theatre system.
LED TV screens
The first thing that you should consider buying when building a good home theatre system is a high-quality TV, preferably an LED TV. This is because the visual capabilities of LED displays are superior to those offered by older panels. For instance, when you pick up a Sony Bravia OLED TV, you enjoy high contrast ratios and truer, deeper blacks courtesy of diodes that can switch off individually. What's great though is that you needn't have to restrict your search to what's available in the Sony LED TV series. This is because the market is flooded with a range of brands and models that are capable of serving your needs to a TV.
You can also consider buying from other brands like Onida, LG, Samsung, Mi, and Panasonic. Having choice at your disposal is important as most LED TVs today are smart and offer a wealth of media options at your fingertips. Picking the right brand is vital as everything from the OS and the processor to the user-experience you enjoy is manufacturer-specific. Coming back to the screen, its size is one of the most important parameters that you need to get right and you can do this by taking into consideration the space available within your living quarters, the viewing distance, and the number of people you assume will watch the TV together at one point of time.
Surround Sound Speakers
Modern TVs are extremely sleek and have ever-decreasing bezel sizes. The drawback here is that the set's audio functionalities are limited by its compact design. However, audio is not something you can compromise on and it's easy to testify to the fact that background sounds are what bring visuals, be it a movie or a football game, to life. Buying a surround-sound audio system is ideal as these sets comprise multiple speakers and hence cover a wide frequency range.
The system's subwoofer takes care of low tones and the other speakers cater to high and mid-range frequencies. Another advantage of having multiple speakers, and not just one unit, is that you can enjoy the three-dimensional sound. This is essential to a good home theatre arrangement as it allows you to immerse yourself in the media being played. So, whether it is standalone music that you want to dance to or audio-visual content that you intend to consume, a Sony audio system or an offering by a reputed brand will ensure that your room is acoustically perfect.
Soundbars
Soundbars, which comprise one or two sleek speaker units are well worth considering too. At times, space constraints are such that your room may not be able to accommodate a full-fledged surround sound system. The advantage of a soundbar is that it gives you decent audio quality at a small form factor. Modern soundbars include, within their sleek designs, built-in subwoofers and so, add depth to the audio running through your room. Some also leverage virtual sound processing to give you a 3D feel.
You could also consider using a soundbar in tandem with a regular surround sound system so as to compliment it. This can be useful, especially if your room is particularly large, or if you'd like the option to switch to a quiet environment every now and then. If your room is large, then your soundbar could be placed at the center to provide direct feed while your surround sound system covers other areas of the room.
Projector
A projector is another element that's worth buying, especially if you intend to host a lot of people and screen matches or movies often. The advantage here is that you can enjoy a large screen size at a fairly lower price point. Purchasing a 75-inch LED TV, for example, can be very expensive, but a projector does the job without causing a financial strain. Some projectors are capable of displaying 4K content, making them ideal for high definition feed. When buying a projector, you would want to consider aspects like the resolution, brightness and throw distance required.
Now that you are aware of the basic building blocks of a good home theatre system, head over to the Bajaj Finserv EMI Network and avail these products at pocket-friendly EMIs. With the hassles of financing behind you, you can take up your pet project with increased vigor. As you begin shopping, check your pre-approved offer from Bajaj Finserv as doing so gives you instant approval and access to EMI financing of up to Rs.4 lakh.