When it comes to black watches for men, it just can't get classier. When you adorn a black watch on your wrist, it does more than just tell time. Whether you want to wear a formal look to your workspace, attend a party with your friends, crack an interview, or go on a dinner date with your lady love, a black watch will never let you down. Black watches for men have a persona of their own. They can easily match up with the outfit you are wearing. Men exude a different level of confidence and showcase a different kind of style when it comes to black watches.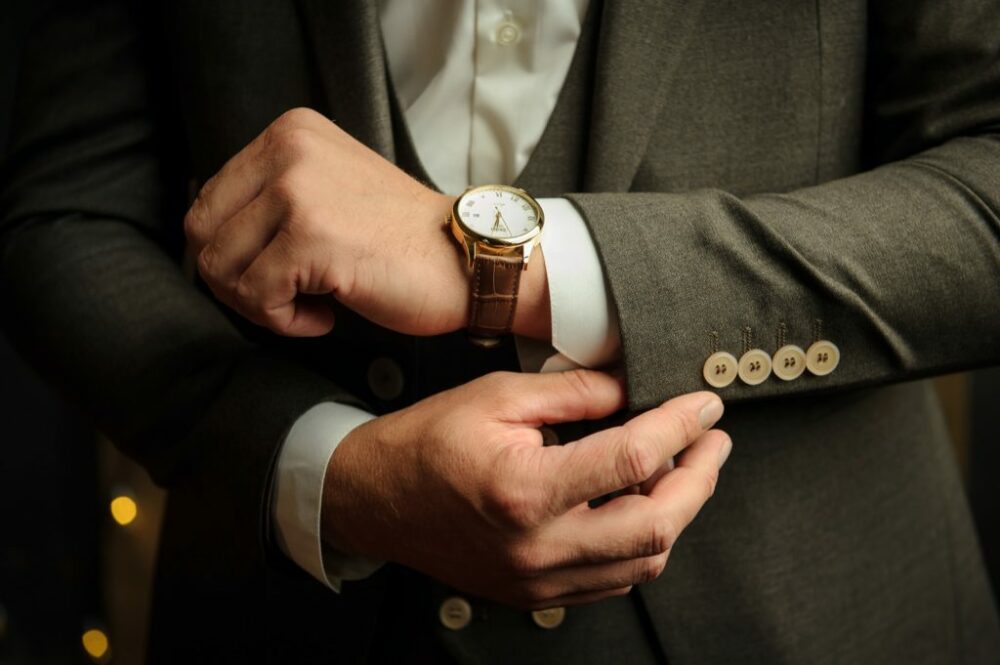 Be it an entry-level option or a high-end fine watch; over the years, you must have witnessed how black watches for men would stand out and top the trending charts. It takes your level of confidence to newer heights. Black watches for men are flamboyant and yet, self-assuring for anyone who wants to experiment with this genre. So, let us look at some of the trendiest black watches for gentlemen.
The Jet-Black Hybrid.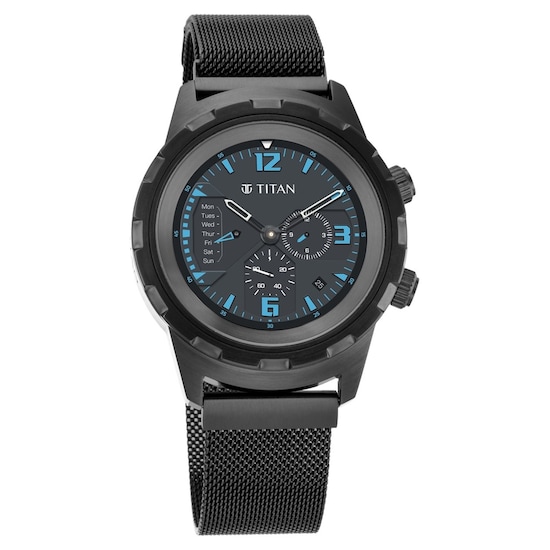 The Connected X – Jet Black Hybrid Smart Watch exudes a high level of zing as it comes along with features such as music control, customizable dial face, a heart rate monitor, and several other features. If you want to stay committed to your fitness goals and yet leave no stone unturned when it comes to swag, then this is the watch you must be looking for this New Year.
The Maritime Glory.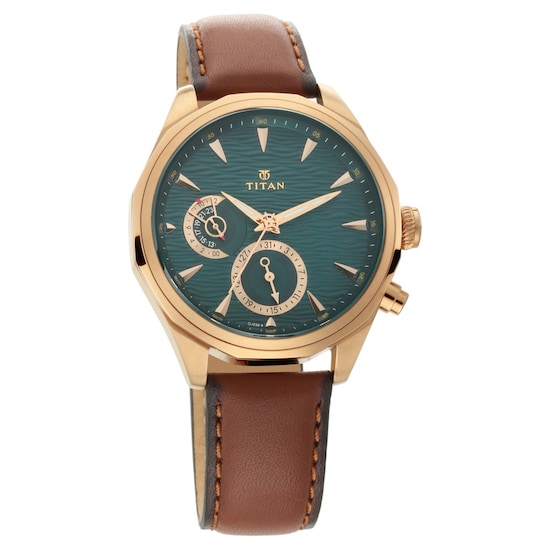 The Maritime Watch with Black Dial & Stainless-Steel Strap has quite a versatile and classy appearance to it. The watch draws inspiration from the trans-oceanic travel elements such as the porthole, the propeller, and the dynamic bow, among the others. Resembling the insignia of a captain's uniform, this classic piece celebrates the seafarers. The dial is inspired by the wooden interiors of the exclusive ocean liners with indices. With a taste for travel and navigational elements, you will surely enjoy brandishing your New Year acquisition.
The Black Worker.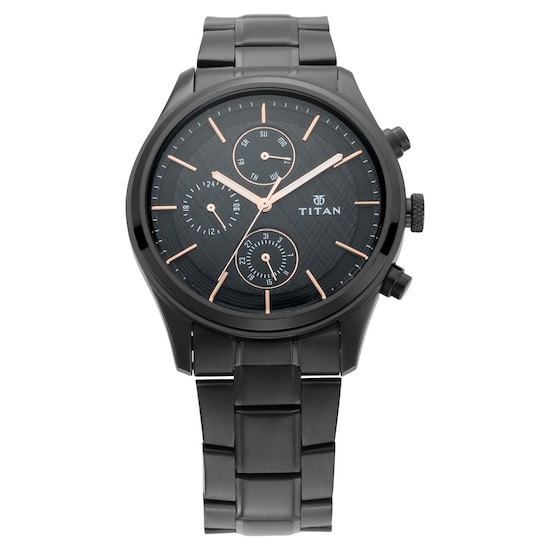 This Workwear Black Dial Black Leather Strap Watch is all you need to feel confident and walk into a New Year party. A dual time watch that displays date and time has a quartz movement. The black, round dial with a brass case and mineral glass, this stylish timepiece comes with a buckle-lock mechanism. The black leather strap has an air of luxury as you wrap it around your wrist. So, get hold of the timepiece and keep rocking.
The Black Athleisure.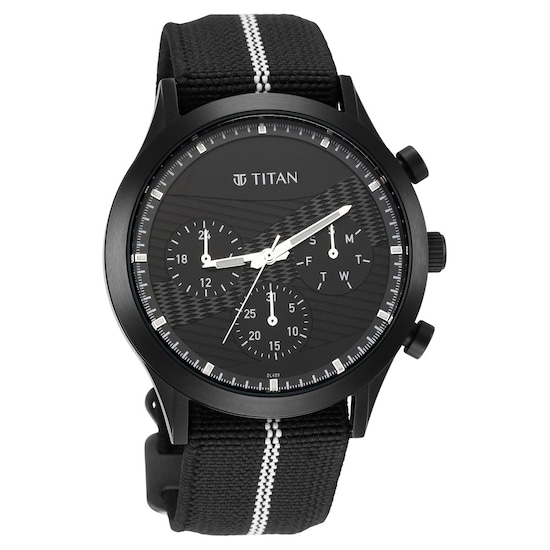 The Athleisure Black Dial Black Nylon Strap Watch is a multifunctional watch with a black coloured dial in a stainless-steel case. It has a hook-type lock mechanism, 5 ATM water resistance, and a swanky, black-coloured nylon strap that can be teamed up with a black and white combination of clothes on New Year eve. The winning combination of black watch for men with a salt and pepper ensemble is only too hard to resist.
The Opulent Black Regalia.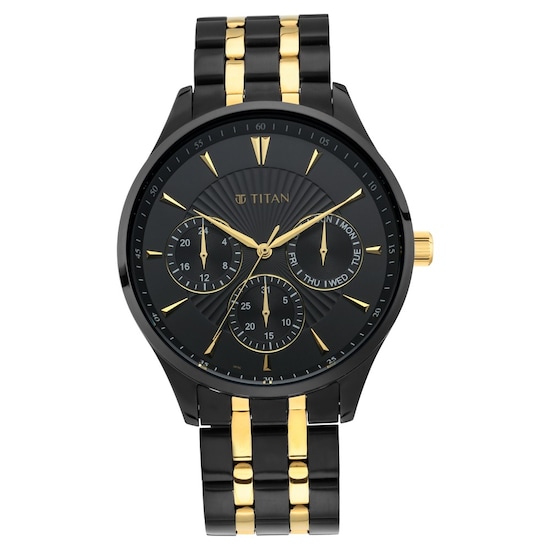 The Regalia Opulent Black Dial Silver Stainless Steel Strap Watch has a multi-layered dial, Lume hands and indices, and multifunction movement with an air of luxury and exclusivity. While you can certainly bag it for the New Year, you can also wear it to big client meetings or special occasions. This timepiece embodies a pioneering mindset and ambition. It forges in its stainless-steel case everything that you are and everything that you want to be.
The Light Leathers.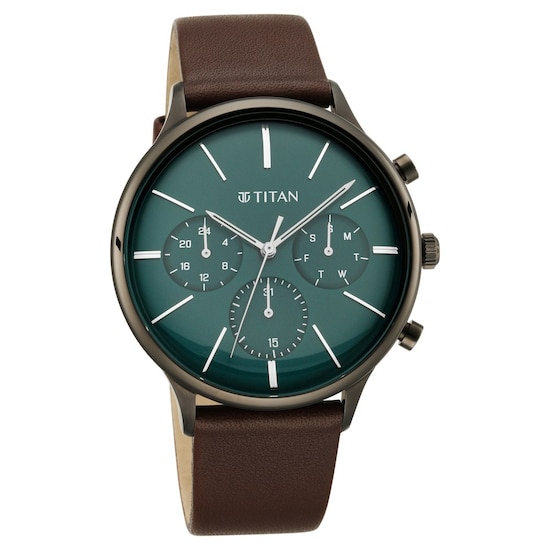 Make your own rules with this exquisite Light Leathers Watch with Black Dial & Black Stainless-Steel Strap. The timepiece has an intricately crafted, high-gloss, multifunctional dial that elevates your style, a 24-hour counter, and a genuine leather strap to perfect the look. Its 3-piece sliding clasp lock mechanism adds up to the functional features of this black watch for men and takes the oomph factor to the next level.
Black watches for men are here to stay. While there is a watch for every person's need, there is seldom a watch for every person's desire. But if black watches for men is what you desire, the above-mentioned list surely is for you. And, if you want to explore more watches, visit the nearby stores of trusted brands such as Titan, Sonata, Fastrack and Raga or check out their respective websites. They offer a diverse range of trendsetting designer watches.