Although the computers running on the Mac OS X are termed as the excellent computers, they do not hold the 'so-called' title of excellence for a long time and become slow when used rigorously. In fact, such causes as a whole cause many other problems that eventually cause data loss. The availability of data recovery tools for different platforms has done lost data recovery on Mac hard drive quite easy, as these tools carry out the recovery tasks irrespective of the causes of data loss.
Your Mac running slow can never be an issue that you can carelessly ignore, as the overfilled hard drive, corrupt disk permissions, login/startup items may not be the culprits always. Instead, disk corruption, file system corruption or failure, or a like issue may be the major cause, which you must fix at the earliest to avoid severe damages (e.g. hard drive failure).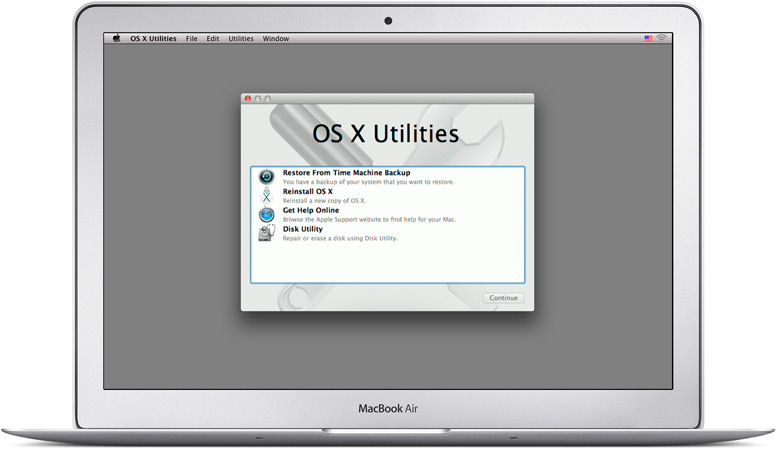 Restore a Mac System
Macs as well as the other modern computers are provided with built-in recovery drive – a drive that is hidden from Disk Utility even. The recovery drive lets you restore your machine when it fails to boot due to a random cause. In case your Mac does not have the recovery drive, you can create it to be able to get back to a working state. Based on the requirements and the availability of the resources, the recovery drive can be replaced with a recovery DVD or a USB drive, which in fact acts as a portable recovery medium.
You can boot into the recovery drive and restore your Mac whenever required. The recovery drive acts as a bootable media and factory restores your Mac system. Well, in addition to the recovery drive, the following are the other options to restore all your data from an incremental backup:
Time Machine Backup
Time Machine is an automated data backup utility added to Mac OS X. In order to take the backup of all your crucial files automatically, you must have the Time Machine configured on your Mac machine. However, you need to have a separate hard drive to store the backup, as Time Machine requires it.
Once you configure the Time Machine on your Mac, it takes a full backup of all the files stored in the selected drive. After the very first complete successful backup, the Time Machine targets only the recently created as well as updated files. Time Machine's backup loop becomes active after an interval of an hour. You can enter into the Time Machine and access any file from the backup whenever required.
Internet Recovery
Another option you have to restore your Mac to a working state is Internet Recovery. In fact, this utility is shipped with your Mac and enables you to access the recovery utility as well as to reinstall the Mac OS X. Though you must first prefer the local recovery drive, you can attempt to access the Internet Recovery option when the former one fails or is no longer accessible. See how you can access the Internet Recovery option on your Mac:
You need to hold down the 'Command + Option + R' keys when your Mac is booting, in order to run Internet Recovery. This will first check the status of the hardware. Select a Wi-Fi network to access the Internet, and then it will start downloading new OS X utilities. These utilities are accessible via a local recovery partition. Subsequently, you can go on to the restore part with these utilities.
In case of data loss at any stage, use commercial data recovery software for data recovery on Mac hard drive. However, make sure the recovery tool is reliable and genuine.