CDN (Content Delivery Network) is a collaborative service made to globalize your web company with support of different servers according to nearest datacenter made available to the user from where he is accessing your website or blog pages. There are countless benefits of using CDN with your web hosting services, let's see some of benefits of using CDN.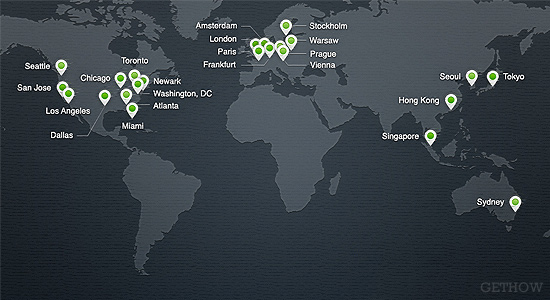 CDN is a web solution specially made to share the cost of big expenses made on VPS, Dedicated Servers and all. CDN is uses latest technologies of caching your whole we page caches and serve it to all CDN Servers located all over the world and share those web pages on the request on your visitor without getting any kind of loading problems in the whole network.
Read More About : What is CDN (Content Delivery Network) System
Increase the Overall Power of Your Server
CDN improves the actual power of your current web server. Because when you use CDN System, the server is used is not of yours, it's of CDN System where the transfer, bandwidth and all things are used of the CDN Datacenters only. So it directly increases the power of your server.
Reduces the Burden of Server in High Traffic
If you are on shared server and suddenly you are getting huge traffic, there might be some problem arise like your hosting account may be suspended for that time and your website becomes unavailable for some times. When you use CDN such kind of problems and huge burdens are managed by the CDN Datacenters and they make your website always uptime even on if your actual web hosting server is down.
It's Easy to Manage Big Traffic
Once you are on Content Delivery Network it is easy to manage big traffic without getting any slowdown in the performance of your server. Because the CDN Datacenters spread all over the world the traffic is shared by themselves only without using your web server's resources.
CDN Makes Your Website 100% Online
Because the CDN System is spread all over the world there is no chance of 0.01% of downtime because if one datacenter is down another will occupies the place of that datacenter. CDN makes your website 100% Online and it is available all days, weeks, month and whole year.
Super Charge Your Website for Heavy Files
As we are doing our job online there is chance that you may use big files on your webpages like very high quality images, big scripts and codes. Big files make your site slow and unresponsive sometime. Here CDN plays an important role by supercharging your website for heavy files.
Optimizes Your Individual Web Pages
Being in CDN Business, CDN Company also sees the optimization part to low down their burdens also which can be done by optimizing your webpages for HTML, CSS and JavaScript based codes for less to less size and makes is faster to accessible.
Help You in Getting Better SEO Rank
According to hundreds of ranking methods of search engines in getting better SEO (Search Engine Optimization) rank it is required that your website is faster and responsive, and CDN makes this possible by giving better speed and optimized webpages to search engines.
Helps in Generating More Revenue
A person distracts from your website from poor performance only and this cause for you a loss in generating your revenue. Using CDN makes this possible to sustain that revenue level and helps in generating more and more as you can.
It's Easy to Setup with No Downtime
If CDN makes you ready to setup and if you are thinking that setting up this cause a downtime for you then be worry free because setting up it does not down your website for one minute. However there is chance that for some seconds it might unavailable but you won't see it everywhere.
It's Cheaper than Using Dedicated Server
Finally we all user always checks the price and cost of the any service for which we are going to use. But you will amazed to see that the price is cheaper enough that any normal webmaster can buy this service without opting for any better Dedicated Server for your site. Some CDN Company provides this facility free also with less of some features.
These are some of the benefits, advantages and good things which you will get after setting up a CDN with your current web hosting services.