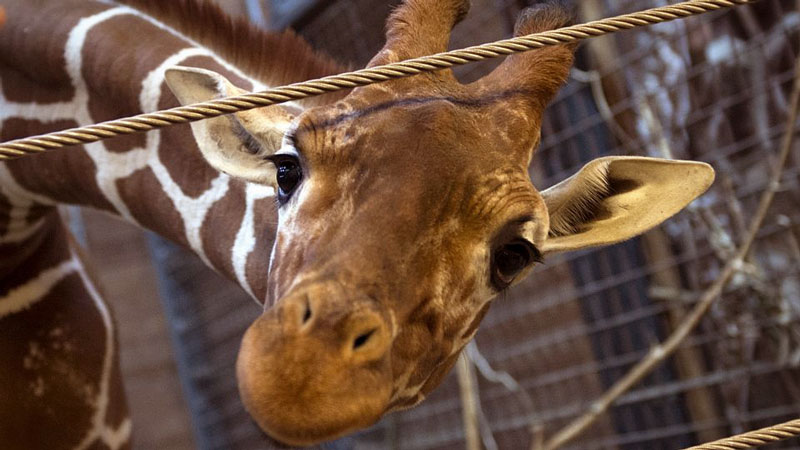 At the Copenhagen Zoo euthanized an 18-month old giraffe named Marius in accordance with its inbreeding policy. 27,000+ signatures on one online petition, over 100,000 on another, and a huge social media outcry could not save young Marius, who died by bolt gun and then became food for other zoo animals.
Bengt Holst, scientific director at the Copenhagen Zoo stated that it is the zoo's responsibility to keep the giraffe population "genetically sound." He told the BBC, "Giraffes today breed very well, and when they do you have to choose and make sure the ones you keep are the ones with the best genes."
Social Media Provides an Outlet for Outrage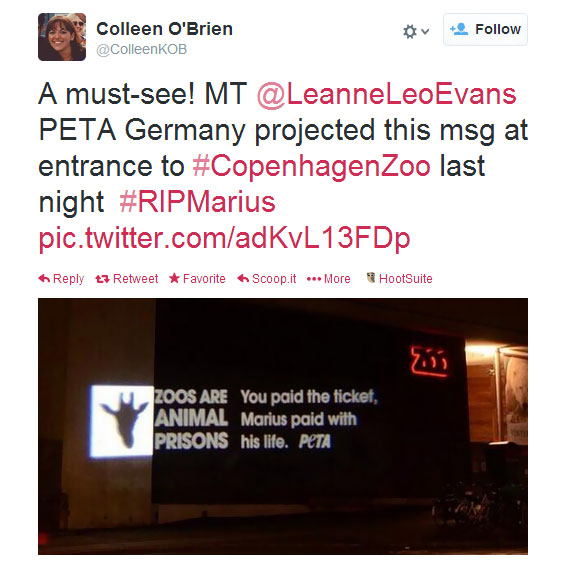 Image via Twitter by @colleenKOB
At first, the Marius camp used social media to garner support (and signatures for the many online petitions) for the movement.
After the killing, many took to social media platforms, like Twitter, to voice their outrage. Some were upset about the killing, while others hated the idea of the animal being fed to lions. Many blasted the Copenhagen Zoo because these events were open to the public; specifically, children.
Twitter wasn't the only place Marius supporters convened. Marius has several Facebook pages, which have been opened in his memory. Most of these pages have thousands of likes, where supporters share articles, news, emotions and pictures.
Sites like Peta.org were calling for people to share Marius' story through large social media share buttons at the end of their posts. Social media sites are also being used to organize a boycott of the zoo and calling for Holst's resignation.
Supporters of the Zoo Post Too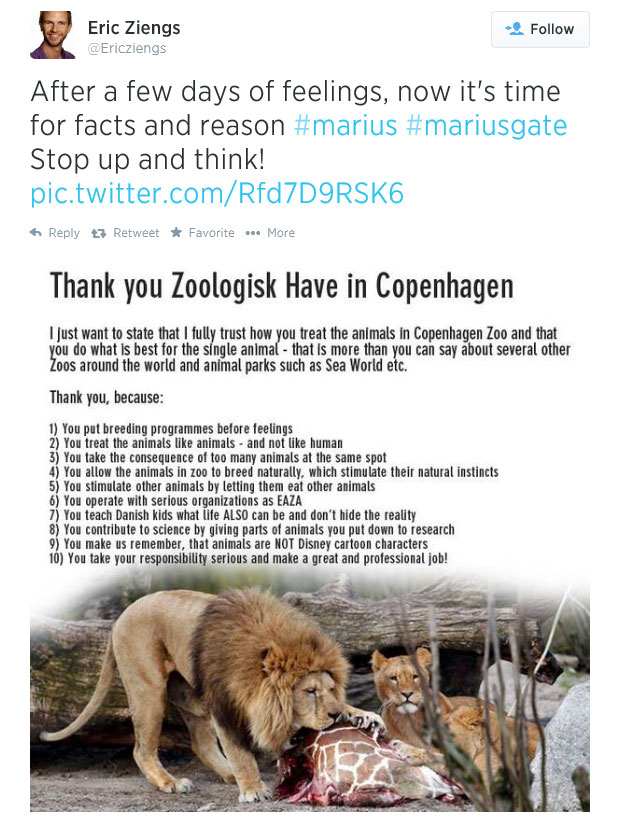 Image via Twitter by @ericziengs
The emotional topic was not without its supporters. There were many who added their voice to explain how zoos must ensure the health and well-being of the animals in their care. Zoo supporters also pointed out that euthanasia is part of animal husbandry and that (at least) the zoo was transparent about telling the public prior to putting Marius down.
Others pointed out that it is not barbaric to feed giraffe meat to lions. It's something they eat in the wild and have a taste for. Lions are carnivores. If it's mealtime for the lions, it means some animal gave its life.
Social Media Sharing and the Role of Mobile
Years ago, unless the AP Wire picked up the story, people in the US would've never heard about a giraffe being euthanized in Denmark. Today, word gets out in a matter of minutes and support (of either side) builds in hours. Marius supporters collected thousands of names on online petitions across the globe in a matter of days.
According to a ShareThis study from mid-2013, when it comes to social media sharing, consumers are more likely — by nearly 2-1 — to share via their mobile device than on their computer. While iPhone users seem are the most social, sharing at a rate of 3x that of desktop users, android cell phone users are also more likely to share on their mobile devices than on a desktop.
What does this mobile sharing mean for journalism? There's a quicker, more emotional response in the shares on cell phones. The user receives the information, quickly digests it and reacts – which results in a share. Momentum builds quickly in the case of emotional topics like this one. Opinion trumps facts in situations such as these and the sharing occurs as a wildfire of emotion.
This has significant repercussions for people in public relations, as social media is available 24 hours a day, and those with smartphones share often. Take this situation for instance. If the Copenhagen Zoo was not monitoring social media over the evening hours, it is conceivable that this story could've run rampant as they slept. What was general protocol for them enraged many on the Internet. The zoo official might have left the night before having no idea that when he came in the next morning several thousand signatures could be on an online petition asking him to reconsider his plan.
It is important that organizations understand what social media sharing can bring to light in very little time. A picture, a conversation, or a blog post can have long-term effects on the organization's reputation. With cell phones we've all become roaming reporters.