Civil engineering is a rewarding career option. It is a challenging job that allows the professionals to keep the world linked by creating the required infrastructure. Do you want to be the one who is involved in developing buildings and other physical structures? Read on to know more about career prospects, job requirements, job role and colleges offering education in the growing field.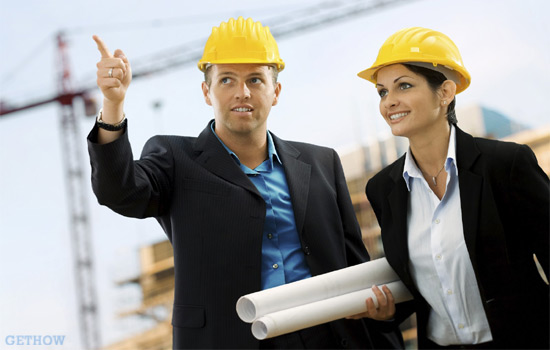 In this world, think of any renowned landmark like Golden Gate Bridge or Burj Dubai towers, it holds one common link. It is the involvement of a civil engineer. So, what is it all about? Well, it is one of the oldest branches of engineering, which involves construction, planning, designing, supervising and quality control of infrastructure, including buildings, roads, highways, tunnels, power plants, airports, bridges and canals, among others. Most of the large scale constructions involve the work of these professionals.
Job Role in Civil Engineering
Ensuring quality in the construction work is the requirement of the civil engineer jobs. From constructing and designing apartment complexes to sewage systems, these engineers apply their knowledge in science, materials and mathematics. The various specializations within the field include construction, water resources, geo-technical, coastal, transportation, and environmental. Working on several projects, these professionals work in team. The job requires proper analysis at every stage of work. Their job role also includes testing building material, soils, cost estimates, and design systems to offer the quality construction.
Where to Study?
In order to become a civil engineer, the aspiring candidate should pursue a degree in the respective field. Several colleges offering degree in it include:
Government Engineering College, Rajkot
Bangalore College of Engineering and Technology, Bangalore
Maharashtra Institute of Technology (MIT), Pune
Jawahar Lal Nehru Engineering College (JNEC), Aurangabad
National Institute of Technology (NIT), Agartala
Apart from these institutes, other world renowned engineering college, IIT Delhi offers Ph. D., B. Tech., and M. Tech. degree in civil engineering. Since the job role involves challenges, the courses are designed in a way to develop the required skills like innovation, quick decision making, and quantitative skills.
Job Opportunities
Professionals in this branch of engineering get ample opportunities to work at municipal, state and national level of government.  The various sectors that offer great career for these people include construction, Municipal Bodies, Defense Forces, Consulting firms, and Railways, among others. Reputed organizations and authorities like DDA, BHEL, Government Housing Authority, National Highway of India and Larsen & Toubro are the major recruiters of these professionals. They have great demand in public as well as private sector. As per the U.S. Bureau of Labor Statistics (BLS), the jobs in civil engineering are expected to increase by around 24% during the period 2008-2018. Hence, there is no doubt that the career is bright for these candidates.
It is a highly paid job that requires administrative and supervisory skills. Salary offered is lucrative, which increases with work experience. Moreover, with a degree in the field, multiple employment opportunities knock at your door. Take a look around and you can see the work of these people everywhere. So, what are you waiting for? Put your best foot forward to grab a career in civil engineering.