Surprisingly, Windows 7 does not show its all available themes to us when we change out theme from Personalize option (When we right click on desktop). There are bunch of themes for specific geographical locations hidden inside the windows file system. We can use them all just via playing a little trick.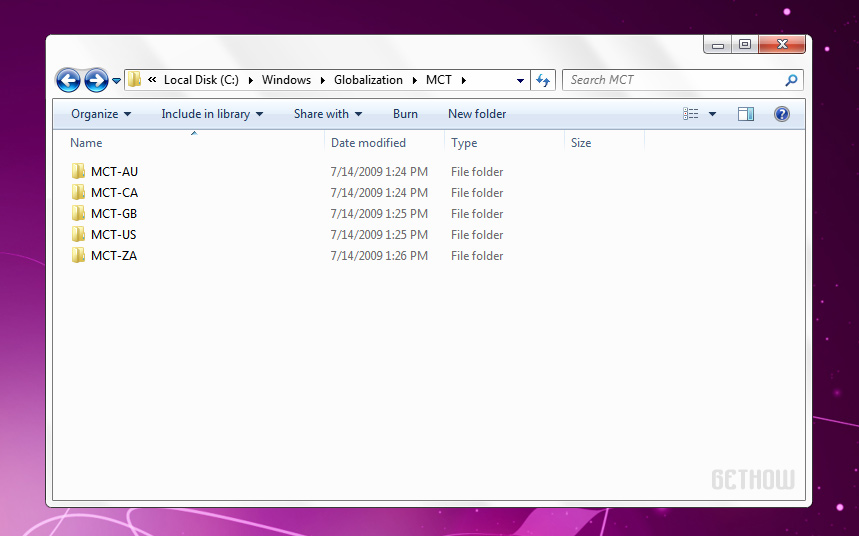 For accessing all the Hidden Windows Theme, follow up the following points.
Method 1
Click on Start Button and type this line – C:WindowsGlobalizationMCT and Press Enter.
We can type this line in Run also to open the directory.
Method 2
Open Computer (Windows Explorer) and Go to this location – C:WindowsGlobalization
Surprisingly, we will see only two folders that are ELS and Sorting, there we need to do a little trick.
Click on address field and type addition path manually MCT in front of C:WindowsGlobalization and press Enter. The exact location should be – C:WindowsGlobalizationMCT after this.
We will see the hidden location is appeared there.
This location contains 5 different themes which we are not using till now except one.
Activating Theme
To activate all of them we need to click on individual folders MCT-XX and go under Theme folder and apply that theme for once. The five themes are for specific country as follows.
MCT-AU is for Australia
MCT-CA is for Canada
MCT-GB is for Great Britain
MCT-US is for United States
MCT-ZA is for South Africa
Now we are done with activating all the hidden and secret Windows 7 Theme.