When we prepare a lot of healthy food, we think that we can eat as much as we want just because it is healthy. In reality, many people do exactly that. A recent research shows that when people see on the label ''low fat'' they eat more and consume 50 percent more calories on average. According to the specialists this is happening because when people see ''low fat'' they think of that as a permission to eat more. Scientists think that people increase the amount of food they eat if it is healthy as they don't feel guilty of eating more. However, bigger portions are a dangerous trap. Even if we can afford to eat 100 extra calories a day that means that within a month we will gain half a kilo of body fat. And in time this condition becomes even worse because with age, our metabolism slows down. Here are some tips that will help you prepare healthy food without overdoing the size of the portions.
You can use the wrap of the product you are ready to consume as guidance as on the wrapper you would be able to see the advisable size of one portion.
Always check the amount of sugars. Our organism converts sugar into fat so if a meal contains sugar it is not low fat at all.

The low-fat food is sometimes misleading us with the portions shown on the wrapper as the amount may not be enough to satisfy our hunger. That is why it is good to check if the amount shown is enough for us.

Even healthy food needs to be consumed in moderation. For example the nuts are full of good nutrition; however, they have a lot of calories too.

If it is too hard for you to stop overeating the low-fat foods, then you may want to try eating fewer fats from the ordinary food and that way try to keep your health and weight within limits.
Normally when we decide to buy low-fat food, we do it not because we like it but because we want to lose weight. So, instead of overeating healthy food that is low fat all the time, we would be better off eating small amounts of regular food and enjoying it. There is no need to eat popcorn in front of the TV just because it is low in calories. Healthy eating doesn't mean compromising with our taste, but it means carefully selecting what and how much of it to eat. Anything that is consumed in moderation can be good and healthy. There is no need to be crazy about reading every label of every product we buy. Just try to not overeat and to follow a certain feeding regime. Never eat too late in the evening as your body will not have the time to digest the given food and that will not only cause you to lose your sleep but will also ''aid'' you in gaining weight. Healthy food – or as the Danish chefs call it sund mad – is not the only contributor to weight loss; it must be combined with healthy eating habits too
Taco Salad Appetizer Recipe
Eight ounces of cream cheese
Eight ounces of cream i.e sour cream
Eight ounces of picante sauce
Two heads of lettuce which are shredded
Two diced tomatoes
One green pepper which is diced
One onion which is diced
A packet of shredded cheese specifically for tacos
A bag  of tortilla chips made from corn
Method
Start by taking a large plate. This should be either square or round in shape. Next, let's start making the salad. We will begin by spreading the cheese (cream cheese) evenly on the plate to make a base. Next, add the sour cream and spread it evenly over the cream cheese layer. For the next layer, add your picante sauce and ensure that you cover all the edges of the plate.
Now that we have made our base, add the tomatoes, peppers, onions and lettuce on the top. This entire mixture is made sumptuous by adding the taco cheese as the final layer and spooning the mixture evenly. This can be served as dipping sauce for nachos and chips.
The above taco salad is a perfect appetizer salad as its taste is tangy and sour and crispy with chips or nachos.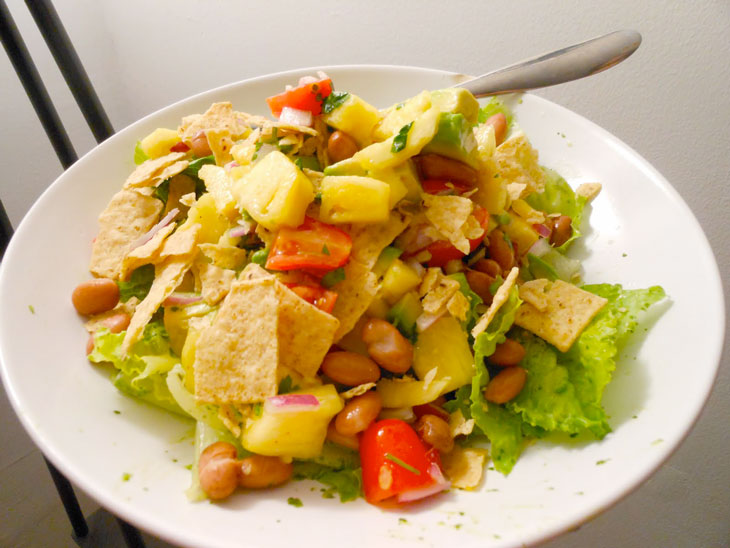 Once you know the salad, you can innovate and make changes, make additions and subtractions to suit your taste. This is an excellent addition to the buffet as well. The best part of this appetizer salad is that even if some is left over, it can be used again in sandwiches because of its savoury and tangy taste. In the modern world today, where we eat a lot of junk food, eating salad may be a healthy habit to adopt.