There is no other better way of comfort than working from home. It gives you all the freedom to work at you own ease enjoying all the luxuries and the extreme comforts. At home you will get the freedom from maintaining all the strict rules and etiquette that you need to maintain at the office. At the same time, it should be kept in mind that the offices in home should be located in such a place so that it does not hamper your attention in the middle of any crucial work, thereby letting you concentrate completely. The place should have less noise in comparison to the other places and should have the minimum interruption of the family members possible. You can enjoy all the comforts if you have made your office space in the garden rooms and call it garden office.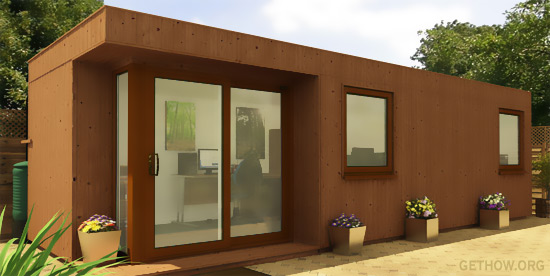 Basic Amenities to be Provided in the Garden Rooms
Since garden rooms are constructed in the lush of green, it gives you proper calmness and helps to increase your concentration levels. Since garden room works in a versatile nature while being used for office purpose, it is good if the arrangements are properly done and the right kinds of amenities are provided. Some of the customization that can be done would include right set of furniture, proper arrangements of light, space for a washroom that would be small and simple, a water purifier and obviously a good quality office desk coupled with a comfortable chair that can be adjusted in heights. Other than this, a sofa would be required so as to bring in the professional outlook as well as to welcome the guest.
Maintenance of Hygiene
Garden offices can be a good option to create a good impression on your clients if you have all the modern amenities as well and have kept it perfectly in order with the health and hygiene. The first thing that should be carefully noted is that the garden office should receive plenty of sunlight to overcome any sort of dampness. You can build the garden office at any corner to avoid much of the noise and any sort of outsider interference. In that case, you should strictly keep in mind that proper ventilation should be provided to the room so that no suffocation environment is caused. Suffocation may hamper your attention as well health. Installing mosquito nets are must. This is because the garden offices are assumed to be situated in a bushy area. Flies and other insects can cause any kind of serious distraction. In order to keep the garden space free from all these, window and door nets are to be installed.
Maintaining the Professional Aspects with Garden Studios
Garden offices can also be the place for holding business meeting with some of the high level delegates and clients. So you should have the professional outlook in the surrounding area of the office space. Garden studios can give the right kind of high specification environment. They are very popular nowadays and a bit different from the regular kind of garden offices. The garden studios are generally furnished with glazed walls and sliding doors and windows. High quality timber cladding is done externally. It has much of the modern appearance that can impress your client to the best extent.
Maintaining Privacy
Garden areas like studios should always be accompanied with a space like garden rooms that may act like an additional living area. This will help you to take rest within the middle of the work and you will not need to run about from the garden office to your bedroom, on and on, after periodic intervals. When you create a garden room or a garden studio as your office space, you get to maintain the perfect privacy and balance between your personal and professional life. Moreover, you also enjoy working within a known serenity.
In order to make an office in your garden, you need to engage a reliable contractor. It would be immensely advantageous for you if you hire somebody who has his base in your locality itself. The main point being the fact that you would be able to keep in regular touch with the contractor for any of your big and small need during the office construction process.