Most of us don't pay too much attention to our chimney, but one that's in need of repair can be unsafe, both structurally and functionally. So, what are the things that can go wrong and what can be done in terms of restoration?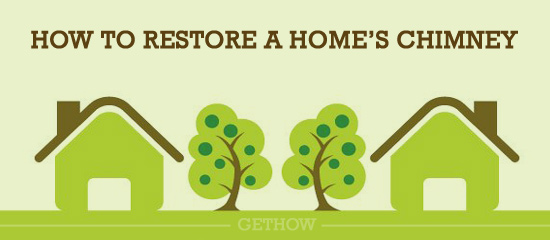 Restoring a Chimney
Whether your chimney is in use or not, it's important to keep it well maintained. If your chimney is no longer used, then you need to have it capped, ensuring that there's still room for ventilation at the top and bottom. If the fireplaces have been taken out and filled in, then have a vent fitted.
For houses where the chimney is still in regular use, it's even more important to make sure that it's sound and functioning correctly. Regular maintenance checks will allow any problems or defects to be found early and corrected before they cause major issues. If you need to carry out any structural repairs, then it's best to seek professional advice.
Jobs that may be required include repairs to the internal mortar and chimneys can be lined with metal or concrete liners. If you have a cracked or a leaning chimney stack it's important that you have the repairs carried out. The mortar can be removed and repointed. You can also replace the flaunching around the pots and the flashing where the chimney and roof meet.
If your chimney needs rebuilding then you should be extremely cautious when demolishing parts of it, as the lower sections may be weak and collapse. They've taken a substantial amount of strain over the years supporting the stack. When carrying out the work, using lime mortar instead of cement could make any future work easier. While you're rebuilding the stack, it would be beneficial to install a lead tray which works in a similar way to damp proof and takes away the water that runs down the chimney.
Benefits of Restoration
Restoring a chimney doesn't just mean that it works correctly, but also that it remains aesthetically pleasing. A poorly maintained chimney will look unappealing and could bring down the value of the property. It could also be dangerous if parts of the masonry were to fall down and hit someone.
A chimney liner that's not working correctly can have serious safety considerations. The liner ensures that the chimney is functioning in the right way. If it isn't, it could lead to a fire, blockage or even carbon monoxide poisoning.
What to Consider?
Whether you're restoring a modern or period chimney, it's important that it matches the rest of the style and character of the house. There are a great range of colours, sizes and styles to match all modern and traditional properties. If you're restoring a chimney in a conservation area or on a listed building, you'll need to pay particular attention to any regulations that you need to abide by.
Choose a reputable supplier, who can build a new chimney to your specifications and work to find a solution that's right for you.