Technologies, of various kinds, have made human life at multiple fronts. Gone those days when we used to follow the wet-ink signature format. It is the 21st century and everything is digitized, including the signatures.
The signature generator is a highly advanced tool that helps humans to curb error, time-consumption, poor security, and many other kinds of hassles associated with wet-ink signatures.
If you have no idea how a signature generator can make your business process more advanced and digitized, read this post.
CocoSign – Changing the World of Document Signing For Better
CocoSign is a highly advanced online signature generator tool tried and tested by millions already. This is a highly advanced sign-on-the-go solution that can digitally sign your documents over a single click.
It comes with a simplified digital signing process that makes the document signing expedient, error-free, and highly secure. Its performance has been featured and applauded by many media houses.
CocoSign has won many awards including the Great User Experience Award 2020, Rising Star Award, Quality Choice, and many more. Read details on this link to know more about how to use CocoSign to create a digital signature.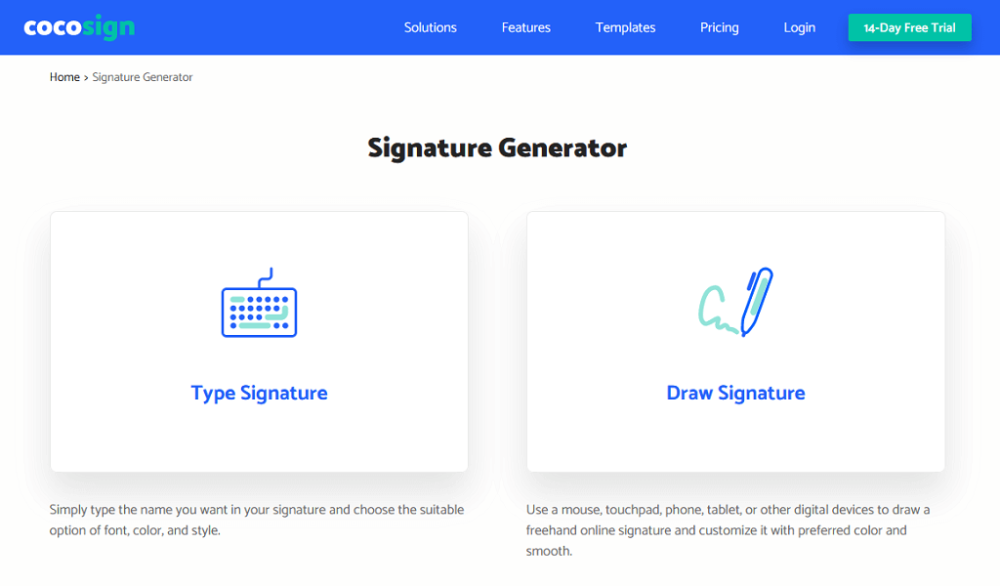 Here are some of the key qualities of CocoSign that has made it one of the most reliable ways to sign on business documents:
Best-in-class security
Signing the business documents is one thing that leaves no scope for errors and a casual approach. When you are using an online signature generator, make sure the service provider is adhering to the industry's best security protocols and high-end security encryption.
This is important to safeguard the integrity of the business documents. CocoSign secures full marks at this front. It meets all the legal complaints like HIPAA, GDPR, PCI DSS, etc.
The entire process is layered with added protection. It uses highly advanced digital encryption and every communication is conducted via a secure SSL line.
For added security, it uses fingerprint and passcode. With such features and facilities, it protects every document.
Wide template library
Business documents come in multiple types and varieties. There are letters of recommendation, financial documents like invoices, business property documents, and many other types.
Signing such different types of documents can be a little time-consuming if there are no pre-designed templates. CocoSign offers a wide range of pre-designed templates.
Sign without any internet connection
Using a signature generator which is always requiring an internet connection to work is only half good. This can bring a halt to your business operations in the absence of an internet connection or poor connectivity.
CocoSign doesn't put this restriction on you as it is capable of processing digital signatures in absence of internet connectivity. End-users can easily and upload the formatted documents as drafts on the website and work on them offline.
Multiple formats are supported
CocoSign doesn't limit its functionality just because of the file format. This advanced digital signature generator supports multiple file formats such as PDFs, Word and Excel files, images in JPG and PNG formats, and many others. So, there is nothing to be worried about.
Besides this, it has great import abilities. You can import the document of your choice from multiple locations such as email, SD card, cloud space, and other apps.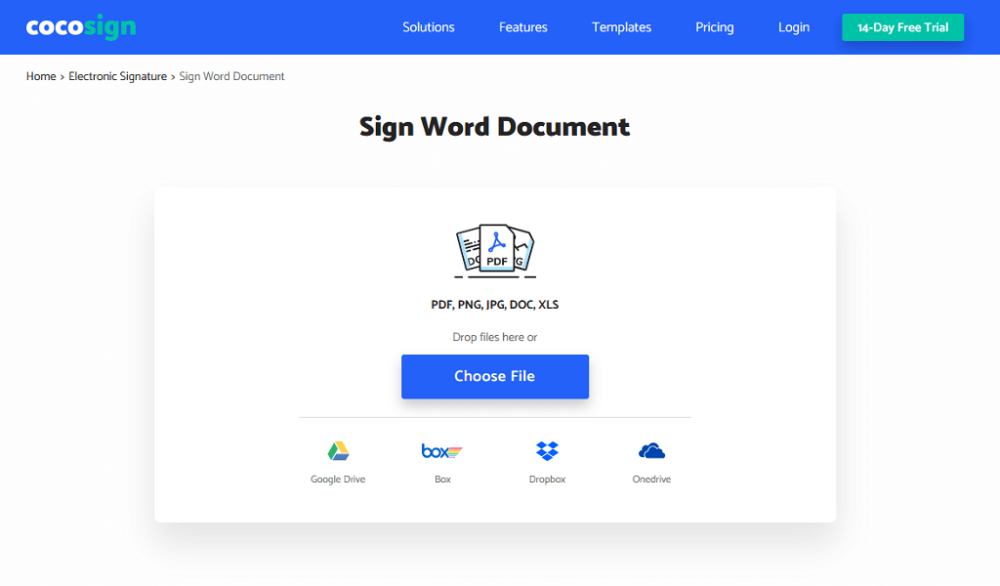 Real-looking digital signature
CocoSign has an advanced technology that leaves no stone unturned to give a digital signature a look of a wet ink-like signature. This way, the digital signatures created by CocoSign look very real and authentic.
Huge time saving
Using CocoSign is a piece of cake. Its user interface is very much simplified and can be used without any hefty requirements. There is no time-consuming software downloading and installation that you have to do to start using CocoSign.
CocoSign is designed with amazing technology and is of compact size. The entire set-up process is only 5-minute long.
In addition to this, it allows you to sign multiple documents in one go. You all have the privilege to do endless customization. You can change the format or allow the recipient to add the signatures in a parallel or sequential method.
All of these things save time and effort that a business has to put on paperwork handling.
Amazing G-suite integration
Tons of business operations and communication happens over Google. G-suite is an indispensable part of business operations.
To empower a business's Google ability, CocoSign offers fantastic Google integration that simplifies, quickens, and streamlines the paperwork handling.
Using this integration, you can customize your digital signatures on Google Drive, Docs, and Sheets. You need not login again and again to your G-suite to sign documents digitally. Once logged in, you can create signs over a single click.
Is CocoSign a Pocket-friendly Way to Sign a Document Digitally?
A lot of talk about the key features of CocoSign has been done. Now, it's time to talk about the money aspect. Despite offering such high features and facilities, it is very easy on the pocket.
It allows you to create a free account that is capable of sending one digitally signed document to one sender, downloading 3 documents, 1 free template, and notification and update facilities.
The paid version starts at $12 per month which is very cost-effective. Its Business subscription is the most popular one and charges you only $36 per month for a myriad of facilities and features.
There is a 14-days free trial. This trial is useful to testify to the claimed capabilities of CocoSign in real-time. Along with this, there is a 30-days money-back guarantee.
There is constant contact support to help customers. All your queries and worries are well-addressed by the customer care team of CocoSign.
In short, CocoSign ensures that you are getting the best ROI of your invested money.
Concluding words
Using a digital signature generator is the easiest way to improve the efficiency and productivity of business paperwork handling. An advanced option like CocoSign makes the job further advanced and secure. It is packed with some amazing AI and technology and has simplified the process by all means. Go for its free trial today.