Pursued by many types of students, a business degree or an MBA offers knowledge useful for a variety of industries. A business degree helps with starting one's own business, and also in obtaining jobs beyond entry level work upon leaving college. There are many schools around the United States that will offer a superior education in business, but certain schools do rise above the rest for reasons of quality, history, and reputation.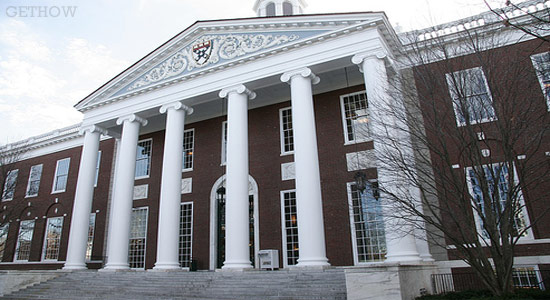 Followings are the 5 best business schools that get you a high paying job.
1. Harvard University Business School
There are few "top" lists for universities where Harvard University won't sit at the number one position. Accepting less than 12 percent of applicants, a year of tuition at Harvard University's business school exceeds 60,000 dollars. The business school at Harvard originally opened its doors in 1908 with just 59 students and has grown to a healthy 1,824 students as of 2013. Harvard's business school receives at least 9,000 applications for enrollment every single year.
2. Stanford University Graduate School of Business
Usually jockeying for first position with Harvard University, the business school at Stanford University accepts even fewer applicants than Harvard with an acceptance rate of just over 7 percent. Costing over 57,000 dollars a year, Stanford's business school currently boasts 3 Nobel laureates as part of its faculty and routinely receives over 7,000 applications for enrollment every single year.
3. University of Pennsylvania Wharton School of Business
Maintaining one of the most respected reputations for business schools in the country, the Wharton School of Business has long offered incredible business graduates to industries around the United States. Accepting around 20 percent of applicants, the school has a current enrollment of around 1,600 students. The Wharton School has an incredibly long history, having been founded in 1881.
4. Massachusetts Institute of Technology Sloan School of Management
Long associated with academic excellence, the business school at the Massachusetts Institute of Technology is an exclusive group of students numbering just over 800. Tuition at the Sloan School of Management is around 58,000 dollars a year, but graduates enjoy a healthy income with the Class of 2012 reporting a mean salary of almost 120,000 dollars a year, which far exceeds the median salary in the United States of just over 50,000 dollars.
5. Northwestern University Kellogg School of Management
As one of the most esteemed schools within Northwestern University, the Kellogg School of Management offers exceptional business education in an environment of around 1,100 students. Operating since 1908, the Kellogg School of Management offers students one of the biggest university libraries in the United States.
The schools at the top of the list for the best business schools in the nation each share an incredible history for education and training of the best minds of the business world. These schools encourage the use of traditional business standards along with advanced business programs. Although one school must always be crowned the victor in lists of the best schools in the nation, each of these institutions of higher learning offers exemplary opportunity for future business success.