While the Mobile Apps business is at the boom and is expanding by leaps and bounds, the competition in the industry is getting cutthroat. It has become very important for developers to ensure the high visibility of their apps. To attain success, it becomes very important to decide the approach you are using to promote your mobile app.
Remember, only a good, systematic approach can give you the desired results. We have come up with one such systematic and attainable approach. Follow the below-mentioned steps and see the results!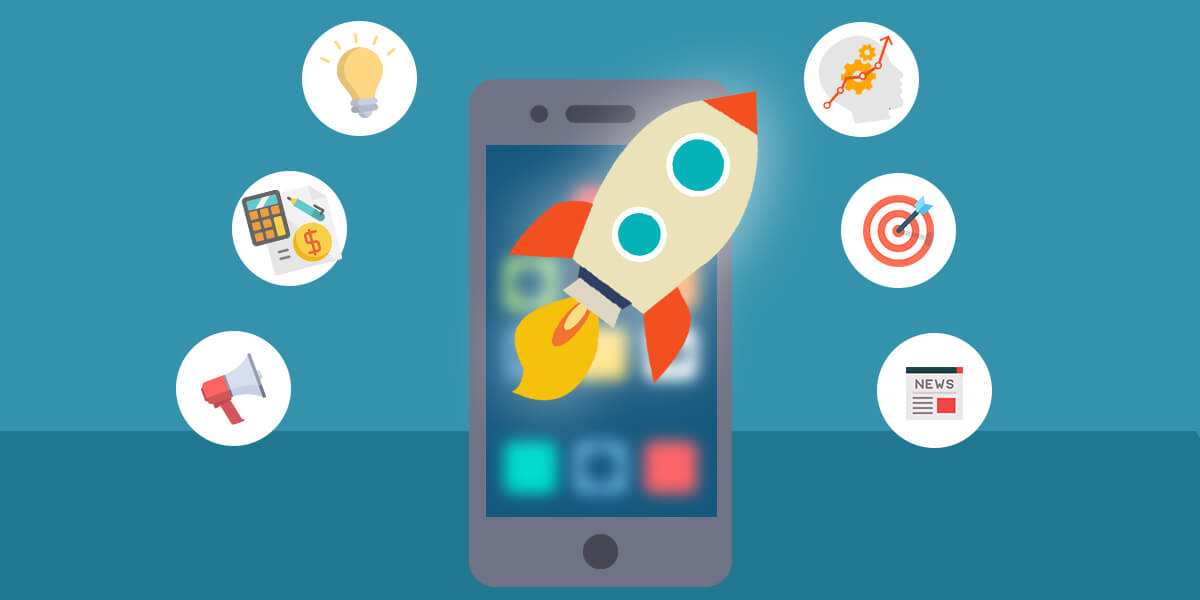 10 steps to launch a mobile/eCommerce app successfully:
01. Decide the genre of your App
Before you launch an app think about what is the importance of your App. Is it solving any problem, is it entertaining them or is it educating them. Questioning your app will help you fight through its odds. Your App should stand apart and not just remain a better version of an existing App.
02. Decide the Target Audience
Keep a stroke in your mind that what type of audience will be fir to use your App. I general consideration it can be those who have a certain type of mobile device, live in certain terrain, a part of a specific demography set (income, age, sex, etc.), has a specific interest, or has a taste for a certain App environment. This will help you fetch the most organic users who will stick to your app for a longer run.
03. Choose Your Platform
Ideally, you should have your app on all four platforms i.e. App Store, Google's Android, Microsoft's Windows, and HTML), but most of the time it is not possible. When it's not, you should better determine your audience and choose the ideal platform that best suits your App.
04. Plan Monetization
Consider the different models for earning money. They can be:
A free App where an application is free for users and you make money via advertisement.
In-App purchases where users pay you for perks like extra game lives, virtual currency etc.
Paid-Apps where users pay you for downloading the app
Subscriptions where users pay you at different intervals.
Choose what suits your App the most.
05. Expand Distribution
Consider going beyond Google Play. Do not keep yourself restricted to one or two platforms. If you are sure about the quality of your app, other app stores are craving quality apps. This gives you a wider potential user, ultimately increase the number of reach and downloads.
06. Establish your USP
Let the users know how your App is more useful/valuable/better than the rest of the similar Apps. Mention the Unique Selling Points of the App in the description. You can also use "first" or "the only" to grab the attention of the user, but make sure that you are accurate while claiming the same.
07. Go Social
Make sure your app has a strong social media presence. This can be one platform for your users to share their experiences with your app and interact with your brand directly. Some popular social media channels like Facebook and Twitter allow two-way communication between your brand and its user base.
08. Blog It Out
Blogs and fresh articles keep your App alive. You must keep generating new content on your website in form of blogs and articles. The blogs could be on any topic that interests your audiences. Constant fresh content also improves the SEO ranking of your mobile App.
09. Public Relations
This is a tricky one, but equally effective. Everyone wants PR, but a very small percentage of the total number of apps get featured in tech journals or general news publications. Hiring a PR team could solve this problem. But, make sure that being good is not enough for getting a PR, you must be exceptionally good with your app store. Remember, that with each PR you tend to reach a massive number of users, you got to be in your best shape for that.
10. Search Engine Optimization
Think about what will a customer search for to reach your App. What are those words or phrases that they will query? Now to make them find you easily develop content that includes these phrases and keywords in the most meaningful manner into your content. This will more likely make the links of your App appear in the relevant searches.
These are some of the steps that need to be taken in order to launch a successful App. Doing this will ensure the long-time success of your App. However, there are endless other reasons due to an app gets successful. We wish you all the luck with your App Launch!