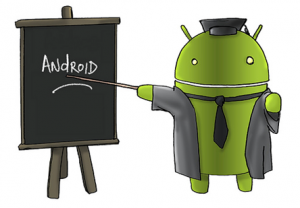 The world of Android has opened a bold new phase in the history of technology. There's no end to the addictive yet useful apps that can be downloaded to your smartphone or idevice, especially since some of them are being used to make daily life a little bit easier. The sheer number of apps can be bewildering though, so let's go through 10 of the more useful ones to date.
1. Ruffl
Are you on the move in a new city without any idea as to what or where you'd like to eat? Is your stomach growling but no restaurant in sight? Well then, you need Ruffl my friend! This useful little app will give you clear directions to the nearest restaurants, as well as offer opinions on what's good and where. A useful weapon in the arsenal against weight loss and corner shop noodles.
2. Linqapp
Learning new languages is one of the most difficult things a person can do. Changing your pronunciation and learning new words and sounds can be difficult when you have a mechanical voice to go on and that's it. Enter Linqapp with direct assistance, ask questions and translation features included with recorded human speech to boot; the application will help you understand your new language with ease but if you still need help there's the inbuilt option of finding a local language expert to help you.
3. Flipagra
Too many photos?  Are you having troubles looking or organizing them? Flipagra allows you to combine all your photos into magazine like slide shows with Facebook integrated comments and share options. Good customization options included allow you to alter music, transition animations, and timing and add titles to your pages. Flipagra even lets you save all your interactive magazines for future use in a library feature, allowing you to share your photos with friends and family for years to come.
4. PeeeM
PeeeM is an instant messaging application, and one of many. This one's good quality though and has one trick up its sleeve you'll definitely find useful; file sharing with any of your friends. Facebook and email integrated to find your buddies.
5. Weyfey
Weyfey is a useful digital camera controlling application able to be combined with you DSLR device. It allows you to change settings and take photos using your phone as a remote. A handy feature is the ability to save photos directly to your phone.
6. TRX force
There are many weight loss program applications out there but this one gives you two benefits, constant updating and a US army twelve week fitness program. Give TRX force a chance to whip you into shape and you won't regret it.
7. Nooz
Nooz is an interestingly spelled but genius application. Its job is to take all the white noise of regular news and trash it, using your online presence (such as Facebook) to judge what you enjoy and are interested in, and then giving you just that news.
8. Tado
Trouble keeping track of your home's temperature, bills and energy usage? Tado's for you then. This handy app can keep track of and predict your household bills, monitor your home's environmental conditions and even switch off if you're not home.
9. Blinkbox
Online streaming services are annoying with their subscriptions and en-mass streaming giving you everything about a series and a movie if you're not careful. Enter Blinkbox; simply choose a movie, pay and watch. No chaff, no subscription, easy to master. Simplicity is the key here and boy is it good to see.
10. Ifussss
Shoot news footage on your phone, upload it to Ifussss and if your footage is used reap rewards from the application that's crowd sourcing international photo-journalism; fun and definitely worth a look if you're an armchair journalist in the making.
Author Bio: Christopher Austin is a frequent writer and his articles are usually concerned with video game related issues and tech field. He is also a regular contributor at an online gaming site Cooking Games 365.