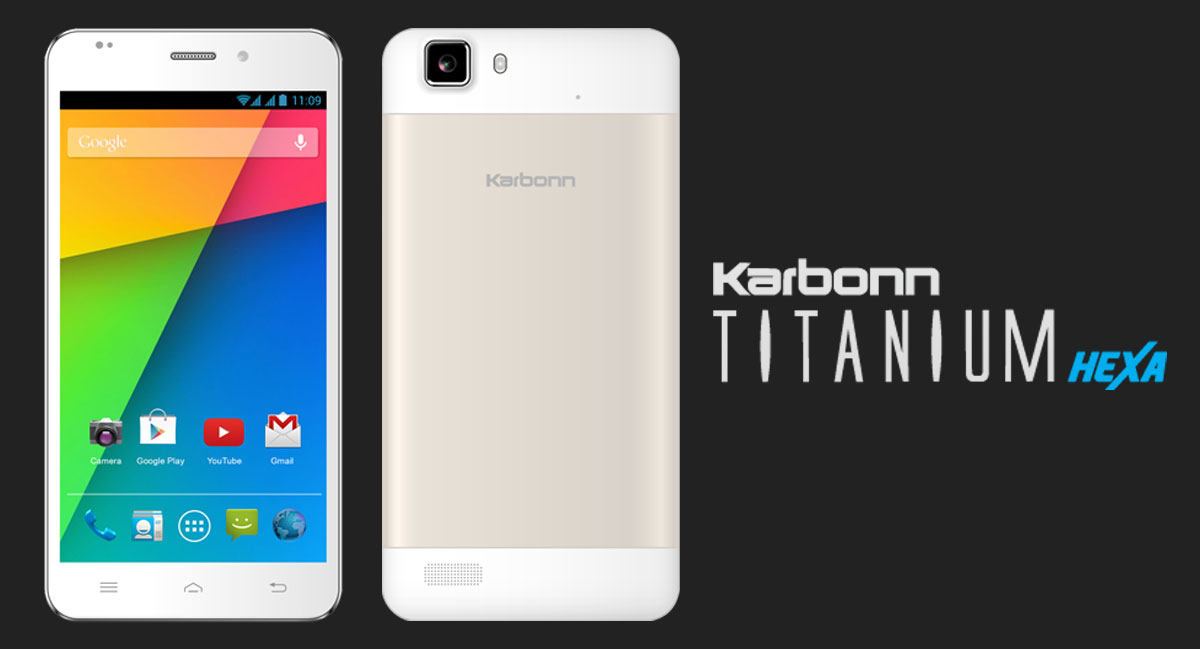 Gone are the days when Indian manufacturers were lagging behind the international players in the mobile market. Now they are catching up and they are catching up well. They have improved in terms of quality, performance and reliability. Even though they have raised the bar, they are available at very competitive prices and give you enough bang for your buck. Karbonn, another prominent Indian manufacturer recently announced some new devices among which Karbonn Titanium Hexa caught our eye. This new phablet seems quite promising and while it looks pretty, it runs a powerful hardware underneath. We take a look at what makes this device stand out.
Design
The device measures 154 x 76.8 x 6.9 mm and as you can see from the numbers, it is a large device. Well it is large but not much if you consider it has a 5.5 inch display. Below the large display, sit three capacitive keys for menu, home and back. The build quality is pretty good and the device doesn't have a removable back panel. The unibody device has a back panel made into three parts. On the top and bottom, there is plastic to flank the metallic panel in the middle. The back panel isn't very smooth and that aids with grip of the device. The plastic used also has a matte finish and it is hard to scratch. It would also not attract fingerprints so sweaty hands aren't a big issue. The weight of this device is kept very well in control and that is a really good thing on a device this big. It is also very slim but it feels a bit thicker as compared to what it is claimed to be. Overall the device is well built and for the price it is on offer form, it seems perfectly justified.
Display
The device comes with a cool 5.5 inch display with a resolution of 1920 x 1080. This gives it a pixel density of 401 pixels per inch which is quite an impressive number. We have seen Karbonn put nice displays on its devices in the past and this one is no exception. You get very well balanced colours, nice contrast and very sharp text. The viewing angles are good as well. They use something called a LTPS or Low Temperature PolySilicon LCD screen which is said to have denser pixels. This helps it reproduce colours better and give you a true to life experience.
Hardware
Well this is another unique bit about this device. It runs a Mediatek chipset with a Hexa core processor. The chipset used is a MediaTek MT6591 which came out a while back and this is the first device running a Hexa Core processor. All the six cores of this processor run together to give you a blazingly fast device. The maximum clock speed is 1.5 GHz which we thing should be good enough to handle anything you throw at this device. It has got 2 GB of RAM and 16 GB of internal storage. It has got an option to add more memory via a micro SD card and it can support memory cards up to 32 GB. This is a dual SIM device and the 3G network can give you download speeds up to 42.2 Mbps. You get Wi-Fi 802.11 b/g/n and Bluetooth 4.0 for connectivity. It has got a micro USB 2.0 port and it allows connecting external storage as it supports USB on the go. While everything about this device seems to be impressive, they have disappointed by putting in a small battery on this device. It has a capacity of just 2050 mAh and that would not suffice for such a device. The large full HD display itself would draw a lot of power and drain the battery rapidly. A slightly bigger battery would have done a better job here.
Camera
The device has got a 13 megapixel primary camera and a secondary camera of 5 megapixel resolution. The camera comes with autofocus and a LED flash to capture some low light shots. While the camera performance isn't exactly staggering or jaw dropping, it is not disappointing either. If the subject is well lit, the camera is able to capture enough details. The photos turn out to be sharp and the colours are replicated well. The autofocus is reasonably quick and is able to get the focus right most of the times. Though in varying light conditions, it fails at times to obtain a focus and you would have to try again to get the right photo. Its performance suffers in low light though. The LED flash is crippled and would hardly help matters. Like with most LED flashes, it makes people look like white ghosts and if you move away a bit, the subject disappears. The front camera has a high resolution for the job it is supposed to handle. It is a 5 megapixel camera and apparently they have taken care of people who like to capture selfies using front camera. The camera interface is simple and easy to use after a while. It is the stock android camera that you would find on nexus devices.
Software
The device runs the latest version of android, 4.4.2 Kit Kat. Apart from the minor changes, the interface is mostly stock and we appreciate it. The interface isn't bloated with useless apps and thus there are no apps to eat up the RAM uselessly. The interface is pretty smooth due to the powerful processor and loads of RAM. There are some gesture controls that they have added and they work without any glitches.
Verdict
Karbonn Titanium Hexa is indeed an impressive device and it clearly indicates how much the Indian manufacturers have moved up with their devices. If you need a powerful phablet on a budget, we would happily recommend this device. It will be available at an attractive price of Rs 16990.