HTC is in a bad state and they have gone through a lot of trouble to bring out this new device. Last year has been quite bad for them and they are losing market share, high level employees and suppliers. But this little Taiwanese manufacturer just refuses to give up in the race. They got up, wiped off the dirt and tried to ride again. This time with an updated version of their flagship device 'One'. The previous version is called the HTC One M7 now and this M8 version is its new iteration which seems promising at first. We dig a bit deeper to find out.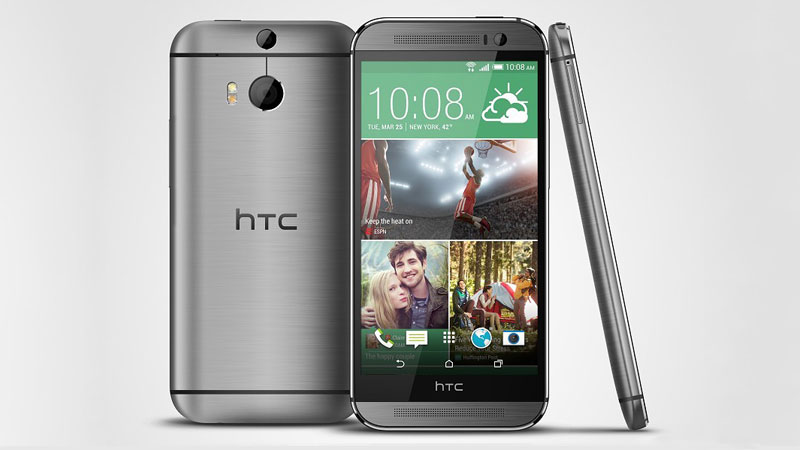 Design
We have always been a fan of the HTC One, or the One M7 we should call it. When everyone else was playing around with plastic and glass, they went into a workshop and carved out this beauty. It just looks superb due to the aluminium unibody and things just got better with the M8. They have filed out all the rough edges on the M7 and added some more metal to the previous device. The plastic sides are gone and the back curves around the phone to its screen. The top edge of the phone is still plastic but that is just it (apart from the two small strips running along its back).
The device is very well built, mocking every other android device in their faces. Instead of a matte finish, this time they have gone for a brushed and shined up appearance. There are no capacitive keys on the front face now and we really appreciate that because they were hard getting used to. Instead, they have gone for the on screen buttons, just like Google ordered. Surprisingly the bezel with HTC written on it stays which further adds to the length of this device. It is so tall that it makes the Nexus 5 look like a tiny device. And all this to find space for an extra loudspeaker and the HTC logo. The power button was hard to access on the M7 because it was on top and it is the same story here. Why can't they just put an IR lens on top and move the power key to the right spine instead of crossing them together and putting the key on top.
Display
The device has got a 5 inch Super LCD3 capacitive display. It has a resolution of 1920 x 1080 which is exactly the same as the HTC One M7 but the pixel density has dropped a bit due to the slight increase in size. It is now 441 pixels per inch and it is still sharper than what your eyes can notice. It has got Gorilla Glass 3 protection to protect against light damage. The coolest feature about its screen is the way it displays time and other details with the flip case on. Others leave a part of the display uncovered to do so. HTC has made a case with tiny holes and it has got a magnet in it. The magnet switches the display into a blocky display like old handheld gaming devices and it lets you see time, weather and incoming notifications.
Hardware and Performance
This is a powerful device, powerful than the giants out there. It runs on the Qualcomm Snapdragon 801 which is slightly more powerful version of the recently launched Snapdragon 800. While they are more or less the same, the difference is a slightly higher maximum processor clock speed. The quad core Krait 400 processor has a maximum clock speed of 2.36 GHz. It has an Adreno 330 GPU just like Snapdragon 800 but it can go up to 578 MHz instead of 450 MHz. There are minor changes to other hardware bits. The maximum download speed on 4G networks have gone up from 100 to 150 Mbps. They have swapped the 2 GB DDR2 RAM for a DDR3 one.
They have also added a micro SD card slot here and the device can support external memory up to 128 GB. The card slot is similar to a SIM card slot and has a tray to house the card. It uses Nano SIM instead of micro SIM. The device is powered by a 2600 mAh battery which considerably improves its battery life over its previous iteration.
It has got the latest android version 4.4.2 Kit Kat with HTC's home brewed Sense 6.0. I have never been a fan of Sense but this one is considerably improved. The blinkfeed is still here and has been moved to the leftmost screen. You can disable it if you find it annoying. They have changed the recent apps list, which now, instead of stacking apps one over other, arranges them in a grid of nine and swiping up would remove an app from the list. They have added themes to Sense as well which comes with home screen wallpaper and an accent colour.
Camera
This device has got two cameras, on the back, and they don't shoot 3D photos. The primary camera is just the same 4 megapixel ultrapixel camera from the One M7 but there is a small change. Sadly the change hasn't contributed in any way towards improving the camera as now they have removed the optical image stabilisation. The dual camera captures depth information. It is used to add various effects to your photos. You can change the focus after clicking the photo and there is a 3D tilt effect which makes use of the other camera. While it adds some features, addition of an entire piece of hardware wasn't really justified here. The camera performance isn't very impressive here and there are many devices that better the M8 here.
Verdict
While the HTC One M8 is definitely better than the previous One, it has its fair share of flaws. The camera is unchanged and performs worse now and it is insanely large for a 5 inch device but that is it. The device is very well built and there is no other android device out there that can match the quality of this device.
Author Bio: This article is contributed by Ajay Chauhan, have a great interest in writing about Handsets and Technology reviews, Currently he is writing for 91mobiles.