Before getting started to execute data restore process, it is required to check out whether one account of Exchange should be packed with data protection rights as well as underneath given conditions should be in True mode:
1. Selected Account Should Have Delegation Privilege
Administration role for Exchange Server 2003
If the storage group recovery is needed to execute for Exchange Server 2007  then, it should be the member of Exchange Organization Administrators group
2. Administrative Membership for the Account within the Machine Where Exchange Server is Executing
If it is matter of legacy restore then, mailbox databases should be restored at Recovery Storage Group instead of storing the data within local original storage groups. As well if the process to restore database from particular mailbox is your desire then, you should always specify the option "Replay Restored Logs Only". The suggestion is not applicable for restoring VSS within recovery storage groups having support of Microsoft® Exchange Server 2007. After completion of data restore process for a storage group you must go for a check whether data is not overwritten or no longer available now.
Before all these tasks, it is required to create Recovery Storage Group with underneath given steps:
Open Exchange System Manager window -> under tree view find administrative groups -> First Administrative group-> Servers-> Windows 2003-> start mailbox management process -> go for New-> Recovery Storage Group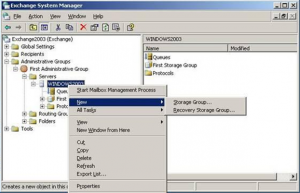 Configure the Exchange files within the Server where you have created Recovery storage groups:
Go to Recovery Storage Group Properties -> Transaction log location and System path location, set the file location within these tabs.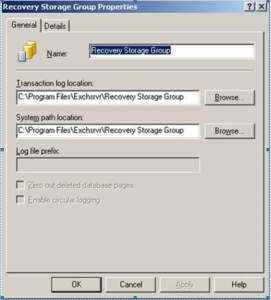 Selection of the database to be recovered and add it for being recovered:
Administrative groups -> First Administrative group-> Servers-> Windows 2003-> Recovery Storage Groups ->Select Database to Recover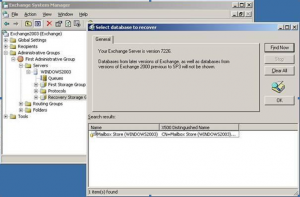 Check the properties of the Storage group and find that "This database can be overwritten by a restore" is checked, if not then check the option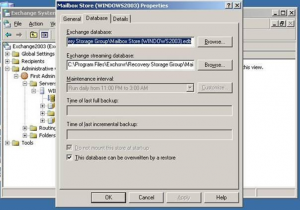 Recovering Of Mailbox Store within Exchange 2003
The process to restore mailboxes from Recovery storage groups is quite simple as you have to select the database for restore to the original location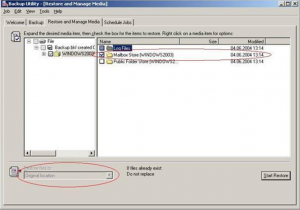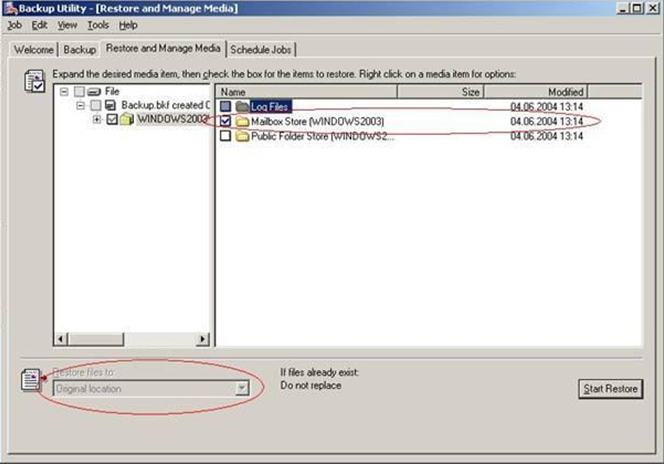 With Exchange Server Service Pack 1, the process to restore Storage groups became quite easy in comparison to the previous tool named as Exmerge.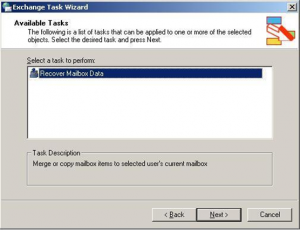 Set the Recovery mailbox store for restoring the databases, for acquiring this option you need to go within Exchange task wizard. With this, you will be able to get the lost mailboxes as well as the mailbox or mailboxes can be reconnected to the existing user or other user.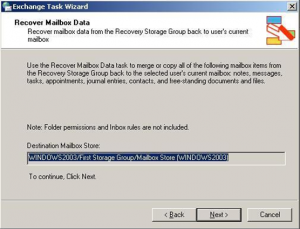 At last you have two options, get the one whether it is Merge Data or Copy Data and move to Next tab for finishing the restore Exchange mailbox process.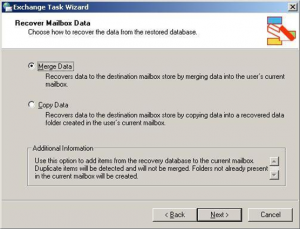 Restore Exchange 2007 Mailboxes
Before getting started to execute Exchange Restore operation, you must have a check for whether Exchange backups are configured properly, and be ready to get back a selected mailbox from recent backup you have drawn. it is required to go through some steps under Exchange Management Console for settling the server for recovery operation. You can also recover  your Exchange database to perform SysTools Exchange EDB Recovery tool; without any loss of original exchange mailbox
Exchange Management Console ->go to the Toolbox option within Microsoft Exchange
Find Disaster Recover Tools option and go with Database Recovery Management tab
 Under actions tab -> At right most Column -> Open Tool tab
Exchange will go through a scan to find out new updates
If any update is available, don't stop the process until it gets completed successfully
After completion of this update, move on for next step "Go to welcome screen"
"Microsoft Exchange Troubleshooting Assistant" within Recovery tool window or you may get it with name MSXTA
Provide a correct name or label for data restore like "Recover Mailbox Items", provide appropriate Server name  as well as proper name for Domain Controller, while completed click on Next tab
Click on "Create a recovery storage group" under multiple task enlisted within Manage Recover Storage Group
Go with the mailbox you want to repair within storage group -> click to Next
Fill Recovery Storage Group name
Scrolling down will let you see the information for your database, the information may also hold Transaction and System information, most of the times database fields filled by default as this section is handled by Server
Finalizing all these things will help you to move on for "Create the recovery storage group"
Now the process to create recovery Storage Group Within Exchange Server 2007 is finished
Now Steps for Exchange 2007 Mailbox Restore
 Under Exchange Server -> Start menu -> Click on NTBackup
Go with Restore and Manage Media tab
Move on and click on file folder to get a view of newly created Exchange mailbox backup
Suppose, you have backup1.bkf, expand the file and go with the storage group, make selection of all items you want to restore, the same process you need to follow with your backup file for restoring desired items
 Go with Start Restore button
 Check the boxes with name Last Restore Set and Mount Database After Restore.
Log and patch files must be located at the particular location. It may be within any drive, move on Ok tab
Mailbox restore process is now started, while the process gets finished you will see the window with a message exploring you have successfully completed Exchange restore
Close the window
In order to wind up the Mailbox restore process it is required to follow few actions for mailbox merge operation for those mailboxes you have recovered recently:
 The preview of repaired or recovered Exchange mailboxes will be available after database mounting. For this under Microsoft Exchange Troubleshooting Assistant window -> The recovery storage group->Mount or Dismount database
Mailbox Database checkbox needed to checked in -> go ahead with Mount Selected Database
While the process gets completed -> move on to task center -> Manage or Copy Mailbox Contents
Within this window go with Gather Merge Information
Move on with Pre-Merge Tasks link
Choose the mailboxes you want to restore; it may be selected, few, or all.
If you are done with mailbox selection then, move with Perform Merge Options tab
Process to restore mailboxes is now finished, now all the clients within your services can login for viewing their lost emails and other information from their Exchange mailboxes