Businesses are gradually more depending upon the Email to support the communication required to perform a range of operations integrating both External and internal stakeholders. Be it a Price quote, scheme, Sales Pitch, or any other information transaction, most of them wish to keep these information transactions in their email client only and even they don't bother to save a copy of it anywhere. And for those people who have their email environment supported in Microsoft Exchange, the exchange server database or EDB turns out to be a high-value and important information storage area holding all such vital current and old information.
Circumstances that may create the need to carry out EDB to PST conversion are:
1. Exchange database has got corrupted and you want to export mailboxes from a backup file, in order to access directly with MS Outlook.
2. There is a requirement to restore unintentionally deleted emails or any other data about any worker from backup and deleted things preservation period is over, and these mails are required to be accessed with MS Outlook.
3. When an employee has been transferred to some other subdivision and there is a need to access his data or emails from that new site.
4. When admin requires some mails for examination purpose but those mails have been saved in different backup files and he requires a resource to pull out those mails and save them into a portable storage table format.
5. Native Microsoft utilities are not much useful in the above situations, since they function against Live Exchange Databases and from a full backup, granular extractions of messages are not supported. In such cases, EDB To PST converters comes into play which can carry out restoration process at message level from a full backup.
I have prepared a list of some most useful Converters which will be useful for the users looking for EDB to PST conversions. The tools included in this post have been shortlisted on the basis of my personal experience and other user's experience.  Check out the tools below:
1. Stellar Phoenix EDB To PST Converter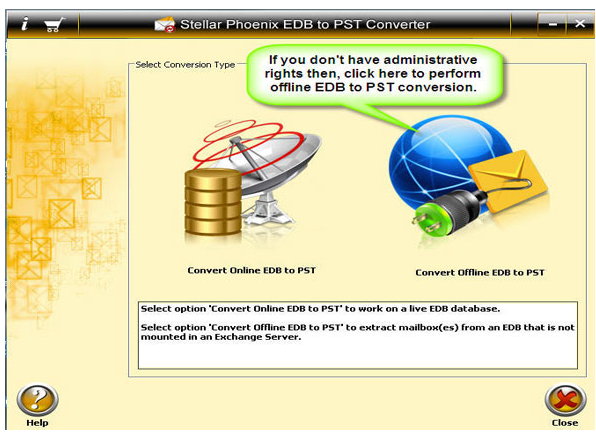 Stellar Phoenix EDB to PST converter is the most widely used converter that efficiently converts MS Exchange database (EDB) files to equivalent Outlook Data files (PST) both on-line and off-line. This amazing tool allows you extract all vital emails, contacts, attachments, sent items etc. efficiently and quickly. Moreover, you can easily restore all accidentally deleted off-line mailboxes with this tool in quick time. If you are in a need to convert your edb to pst, then you must give this tool a shot as this tool has the highest conversion rate as compared to other similar tools available in the market..
2. Enstella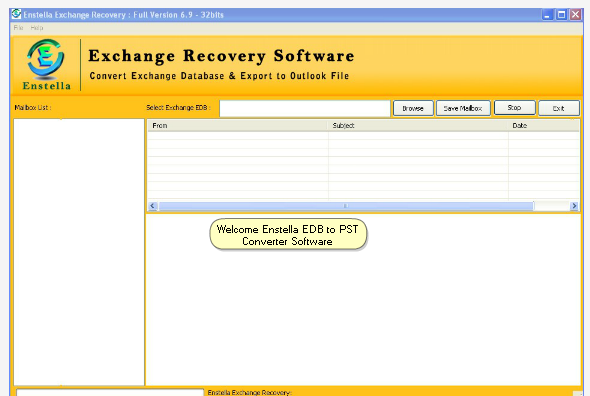 Enstella assist you to reorganize all Exchange associated troubles and export Exchange EDB to PST from a damaged EDB file of user's mailboxes. Enstella system provides a decent Exchange EDB to PST Recovery tool to pull out all grubby inaccuracies that stay alive in an Exchange environment and have an effect on them poorly.
3. Kernel Data Recovery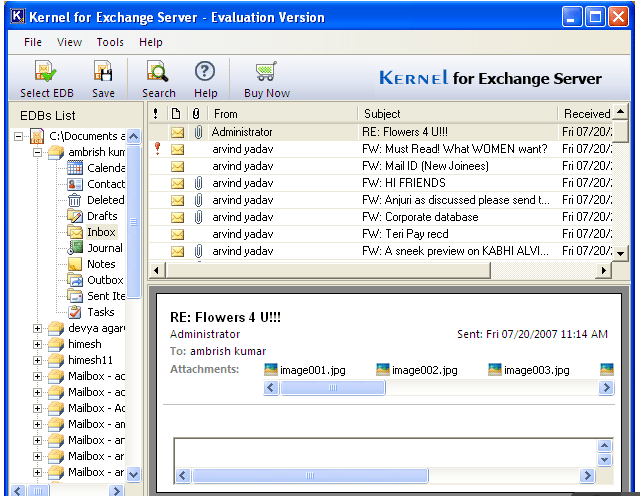 Kernel for Exchange Server is a classy email recovery tool that precisely and perfectly repairs corrupted or damaged MS Exchange Server database .EDB files. This software supports all editions of Microsoft Exchange Server and extracts both .STM and .EDB files with total precision.
4. Sys Tools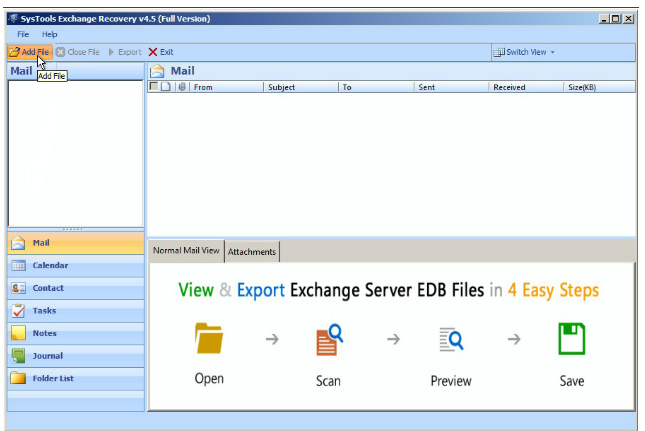 The Sys Tools EDB converter has been designed to convert Exchange EDB mailbox into different file formats efficiently & precisely. With this converter, you can restore corrupt EDB files (public database.edb , mailbox database.edb, pub.edb, and priv.edb,) and convert them to Outlook PST, MSG, and EML files.
5. PC Vita Software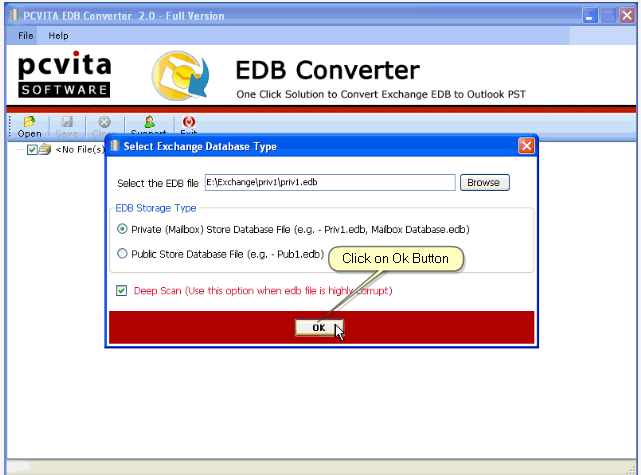 This converter is operational with new features that ease Exchange user 's life. Now no need to worry when Exchange server crashes or goes down as PC vita's EDB converter can recover and convert EDB files quite precisely.
You can use any of the above listed tools to convert your edb files to pst in case your exchange database files gets corrupt or damage.