As the school year comes to a close, most teachers begin thinking of ways to close up their classrooms so that everything will be in order come fall. With budgets being lowered by the day, most schools just don't have the funds to buy new supplies and equipment, so here are some tips to help teachers ready their classrooms for the next year. Once that classroom is tidied up and equipment safely stowed away, you can enjoy your summer break and leave the worries for later.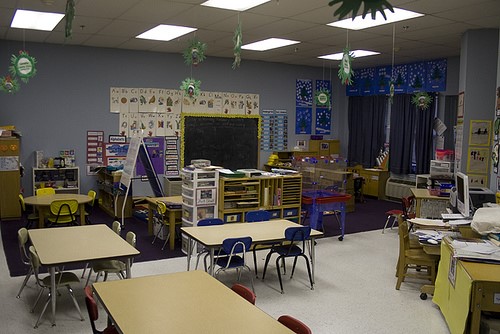 Photo by WoodleyWonderworks
Take an Inventory
Before you can accomplish anything whatsoever, you must know what you have to work with. Take an inventory so you will have it in black and white to reference as you go. Which educational items can be reused and which need to be disposed of? Of course there will always be time sensitive items that become outdated and those can safely be trashed, but what about toys and hand-on activities? If they are broken without hope of repair, throw them out!
However, some may be salvageable. (We'll get to that in a bit.) You may also want to make a list of those items that are questionable. Do you really need them? Can they be used again? After you've gone through your checklist, you will find that some of these items need to stay while others can be safely disposed of.
Repair What You Can
Principals and school administrators absolutely hate being asked for new supplies when they see the ones you have as perfectly serviceable. However, as an educator, you know the value of having activities that are interesting to the children. No child likes to play or work with things that have seen better days and if you have any hope of sparking an interest, it is up to you to have those things repaired.
Plastic, metal, fiberglass and even wooden toys can be cleaned up and re-painted with something like Plasti Dip that not only gives those things a new finish but can help to protect them against further damage. If your principal isn't willing to dip into the budget for new supplies this year, what makes you think things will change next year? Do what you can to prolong the life of whatever you can save. You never know when the money will be there to buy another!
Finding Room for Storage
Finally, after you've gone through your inventory to see which items you need to keep and which should be tossed, you'll need to find somewhere safe to store everything you are keeping. Administrators will tell you to store them in the closets and cubbies within your classroom, but is this a good idea? Quite often maintenance crews come in over the summer to make repairs, paint, do a thorough cleaning and sometimes even replace desks and other classroom furniture. In order to protect those items that may get damaged being shuffled about, such as computers and musical instruments that are also prone to theft, you will need to find safe and secure storage.
This year, when you say goodbye to the children and wish them a happy summer, you can rest assured that you will also be able to get that much-needed vacation. Summer isn't only for kids and with a little advance planning, you can enjoy yours as well.